Acting Director Announced for Facilities Management Department / tamzyn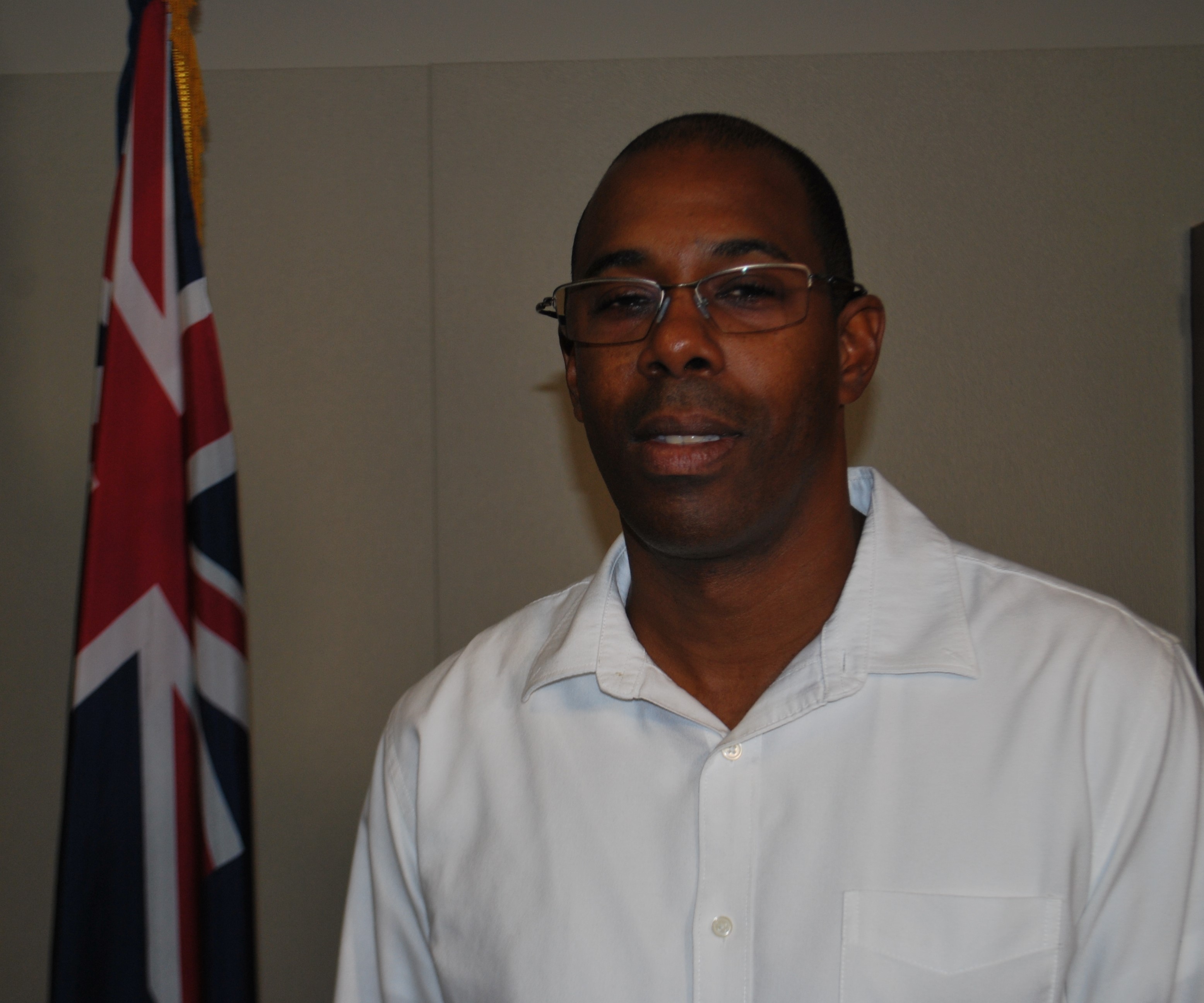 The Ministry of Commerce, Planning and Infrastructure has announced that Mr. Craig Maitland will be Acting Director, Facilities Management Department, effective January 2021.
In his new role, he will be responsible for the leadership, strategic development and management of the Cayman Islands Government facilities with focus on facilities master planning, budget management, general maintenance repairs and services, as well as telecommunications network maintenance.
Mr. Maitland is currently the Mechanical, Electrical, Plumbing (MEP) and Operations Manager in the Department since 2017 with responsibility for the daily operations for the Government Administration Building, Cayman Islands Environmental Centre and the community centres across the Grand Cayman.
He began his employment with the Cayman Islands Government in 2006 as an Air-Condition Technician at the Public Works Department and later with the Health Services Authority, where he served as a Senior HVAC Engineer for over nine years.
Mr. Maitland holds an Associate Degree in Physical Science from the University College of the Cayman Islands as well as certifications in electrical, refrigeration and safety from the George Mason University, Virginia in the United States. He is enrolled with the Association for Project Management where he is currently pursuing a facilities management qualification.
Mr Maitland is a member of a number of professional organisations including the American Society of Heating, Refrigerating and Air-Conditioning Engineers, American Society for Industrial Security and the International Facility Management Association.
Director of Facilities Management Mr. Troy Whorms stated that he is confident that Mr. Maitland will deliver on the objectives of the Department. "Craig is motivated by saving money for government. He is humble, intelligent and positively impacts government expenditure and working environment daily. He has high ethical values and is one of the greatest civil servants I have had the privilege of working with. Craig has a wealth of experience that will serve the Government well as he overseas FM and service delivery," he said.
On his upcoming position, Mr. Maitland said, I am very excited to have this opportunity to continue with the excellent work of this Department to deliver high quality services and support our many stakeholders. I look forward to working with, and leading the team to contribute to the development of the Cayman Islands Government and help its continued success".
Mr. Troy Whorms, leaves his post at the end of this year to take up an appointment in January as Acting Director at the Public Works Department.
---
His Excellency the Governor, Martyn Roper has given his approval to extend the next voter registration deadline to Wednesday, 20 January 2021.
This deadline is the last opportunity for the members of the public to register to vote before the 2021 General Election on Wednesday, 26 May 2021.

"For some, 2021 will be their first opportunity to have their say in Cayman's democracy including many who turned 18 after 2017. By extending the deadline, we hope to encourage more Caymanians to come forward to register and exercise their right to vote in the next General Election," commented Mr. Roper.
Individuals wanting to register to vote can contact their Registering Officer, visit www.elections.ky, call 949-8047 or visit the Elections Office at Bay Town Suites, George Town.
---
The Chamber's Executive Committee met with the Premier in early December and presented six recommendations based on membership feedback to improve the processing of WORC applications.
Recommendations include the introduction of a risk-based approach to reduce the processing time for low-risk work permits so that the department can focus its resources and efforts on the roles most likely to be filled by Caymanians, the hiring and training of temporary contract staff to reduce backlogs and the introduction of a modified version of the long-considered good corporate citizen programme.
The Executive Committee meets monthly with the WORC management team. During these meetings, WORC provides regular updates on statistics and any improvements that are being introduced to administrative and online systems.
These meetings are extremely useful and provides a platform for the exchange of ideas and possible solutions to improve the operations of WORC. The Executive Committee has requested a meeting with WORC and the Ministry in the new year to consider the recommendations.
---
The total value of the merchandise imports declined, reflecting decreased economic activity due to the global Covid-19 pandemic. Goods Import for the third quarter stood at $296.85 million, a decrease of 10.2 percent, as non-petroleum and petroleum and petroleum-related imports declined.The decline in non-petroleum and petroleum imports by 5.4 percent and 46.2 percent, respectively.
There were reductions in imports of food items such as fruits and vegetables, meat, and fish, and cereal by 6.6 percent as well as beverages and tobacco by 0.2 percent. However, machinery and transport equipment, such as road vehicles, industrial machinery, and telecoms equipment was marginally higher by 1.7 percent for the quarter. Additionally, manufactured goods such as building materials like cement, cork and wood and textiles grew by 12.3 percent for the September quarter.
There was a lower imported volume of fuel, especially aviation and diesel fuel, in addition to the reduction in the average price of petroleum products imported for the third quarter of 2020.
More information on the "The Cayman Islands' Quarterly Trade Statistics Bulletin: July to September 2020," is available at www.eso.ky
---
The Ministry of Commerce, Planning and Infrastructure has announced that Mr. Troy Whorms will assume the top position as Director, (Acting), at the Public Works Department (PWD), effective January 2021.
Mr. Whorms will be responsible for planning, controlling and directing the operations of PWD's divisions, sections and units to ensure the provision of comprehensive, high quality services in a cost effective and timely manner.
As Director, he will also be responsible for continuing the Department's strong focus on the training and development of Caymanian employees by implementing robust succession planning and other opportunities for them to progress.
Mr. Whorms is currently Director of the Facilities Management Department which administers and oversees the operations of the Government Administration Building. He was appointed to the position in 2015, and has led his office in firmly establishing a reputation for providing excellent service and achieving Cayman Islands Government's highest annual engagement survey index of 90% in 2019.
During his early career, Mr. Whorms worked with the Public Works Department where he gained extensive experience managing the administrative as well as technical aspects of projects, including dealing with contractors, budgets and staff. He has held several positions in the civil service including Assistant Engineer, Technical Assistant, Assistant Construction Manager, Deputy Facilities Manager, Facilities Manager and Head of Department.
Mr. Whorms holds a post graduate certificate in public administration from the University of Liverpool, a Bachelor of Science degree in Construction Management and an Associate of Science degree in Architectural Building Engineering Technology from the New England Institute of Technology.
He has also completed studies in electrical and technology at the University College of the Cayman Islands and has a range of professional development qualifications including ILM level 3 certificate in leadership and management, facilities management professional from the International Facilities Management Association as well as certification as procurement fraud control specialist.
Mr. Whorms is a member of the Cayman Islands Public Procurement Committee, International Facilities Management Association and the Cayman Islands Facilities Management Association.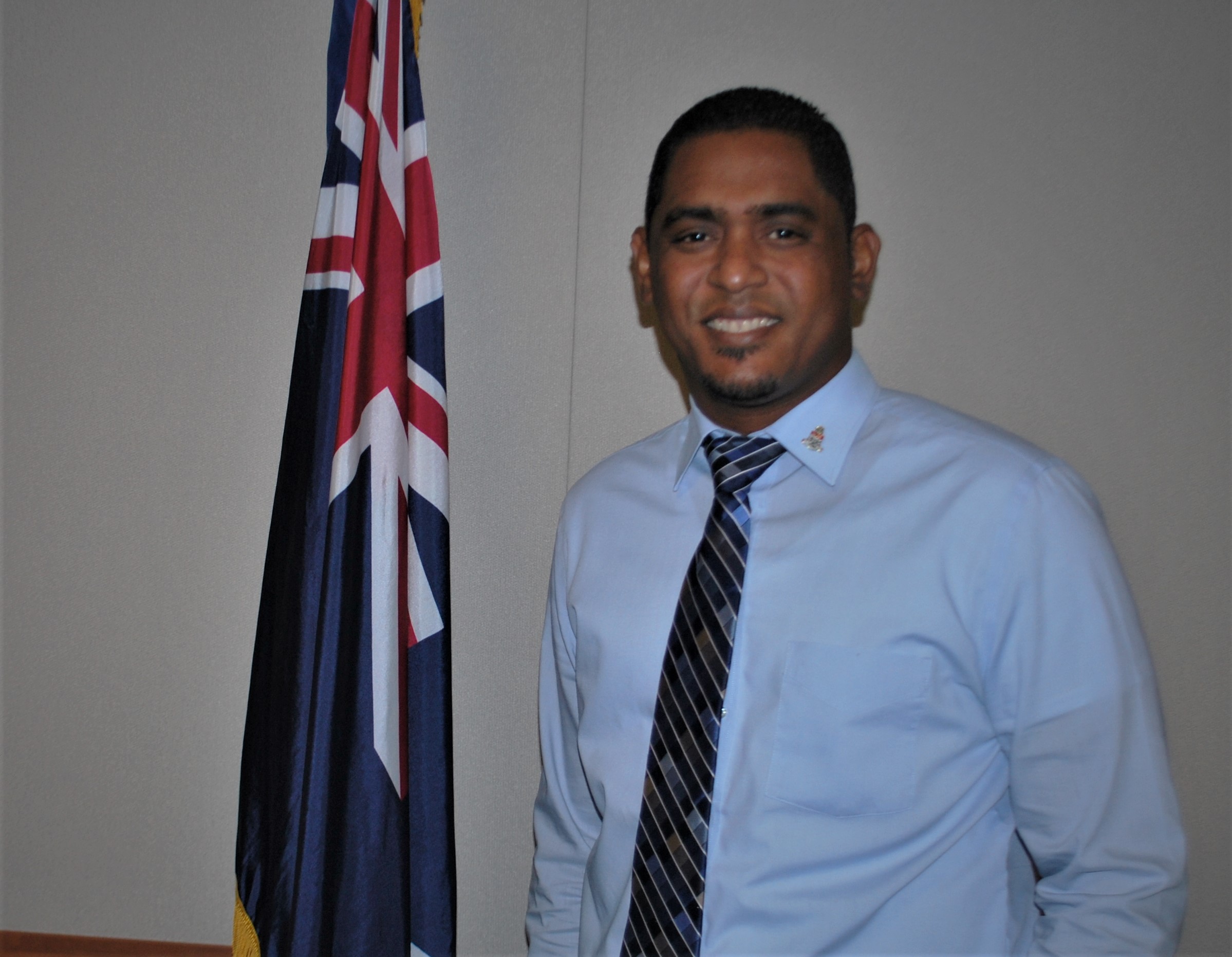 Chief Officer in the Ministry of Commerce, Planning and Infrastructure, Mr. Alan Jones has expressed immense satisfaction with the acting appointment of Mr. Whorms to the position noting, "With his experience and education, Troy is well grounded in the breadth of Public Works Department operations, and has very strong working relationships with the staff and stakeholders. Troy is a bright and outstanding Caymanian who values collaboration and is solutions oriented".
"His appointment will serve the Government well both now and into the future, as we move forward several major capital investments to support the needs of these Islands. I have full confidence that he will be an outstanding leader at the Public Works Department, and the entire Ministry staff look forward to working with him in this important post," Mr. Jones said.
In commenting on his new role, Mr. Whorms stated, "I started my career in the civil service at the Public Works Department as a summer intern and I am grateful for the opportunity to serve in this capacity within the Cayman Islands Government. I look forward to building upon already strong relationships to support the Public Works Department, furthering staff training, professional development, providing the best outcomes, customer experience and simply to make the lives of those we serve better".
There are some 131 employees at the Public Works Department, which comprises of operations, finance and administration, human resources, organisational development and operational support and major projects.
The Operations Division includes the Facilities Management Section which carries out maintenance on over 100 government buildings; the Consultancy Services and Project Management Sections which provide services for 30 to 50 capital projects a year ranging in value from $25,000 to $15 million; and the Recreation Parks and Cemeteries Section that maintains in excess of 100 government outdoor sites and public facilities.
The major projects section of PWD managed a capital project budget of over $750 million dollars in 2019.
---
The Cayman Islands Government welcomes the recommendations published by the Office of the Auditor General (OAG) in its two most recent reports: Improving Financial Accountability and Transparency: Budgeting (December 2020) and Financial Reporting of the Cayman Islands Government: General Report December 2019 (December 2020).
Government stands committed to working with the OAG on all matters, including improving its financial reporting, to promote accountability and transparency in its stewardship of public funds.

As the Auditor General notes in Financial Reporting of the Cayman Islands Government: General Report December 2019 (December 2020), the quality of financial reporting has improved significantly over recent years, culminating in all public bodies being issued with clean audit opinions so far (36 of the 41 completed audits, have all received "clean" opinions) for their 2019 submissions.

Additionally, the OAG states there has also been a marked increase in the number of entities preparing and tabling annual reports (as opposed to financial statements), which improves the standard of financial accountability and satisfies a key condition of the Public Management and Finance Law.
Government stands committed to continuing to make such improvements, including the recommendation to enhance the timely submission of these reports.

In Improving Financial Accountability and Transparency: Budgeting (December 2020), the OAG makes recommendations that are aimed at improving transparency and accountability and simplifying the budget-setting process.

Earlier this year, the Ministry of Finance and Economic Development laid out in its Strategic Plan for 2021 to 2025 the aim of strengthening Government's "managing for results environment and culture," including modernising the budget system for future budgets. This demonstrates the Ministry's commitment to tackle the further necessary modernisations outlined by the OAG and is already set out as specific actions in the Ministry's Strategic Plan.
Specific plans include commencement of the Budget and Reporting Working Group in January 2021. This Working Group was initially established in early 2018 but placed on hold awaiting the completion of this report to allow for any recommendations to be incorporated.

Deputy Governor, Hon. Franz Manderson notes: "In Government, we take our responsibilities as custodians of the public purse very seriously; where we have been tasked with making improvements in recent years, we have strived to deliver those efficiently and strategically. I am pleased to see that the results of our efforts to improve our financial reporting have been recognized by the OAG."
Mr. Manderson adds: "We note the recommendations by the OAG in these two new reports and pledge to continue to make improvements with regards to transparency and accountability in our use of public funds and, particularly, to make this information more accessible to the public while we continue to strive to improve the efficiency and effectiveness of our overall processes."
---
In further preparing for continuing financial services regulatory developments, the Ministry of Financial Services is providing industry with an overview of key initiatives for the year 2021.
As with all financial services jurisdictions, the Cayman Islands continually reviews, evolves and enhances its legislative and regulatory environment to ensure it is in line with evolving global standards and best practices and the evolving needs of global clients.
The Ministry notes that policy decisions on these matters have not yet been made. Feedback from stakeholders, including industry, will be considered through a revised Ministry consultation process, which is intended to best reinforce the Cayman Islands' position as a well-regulated, commercially attractive jurisdiction. General principles of the revised consultation process include consulting at the earliest possible stage in the decision-making process; facilitating the widest participation of stakeholders as feasible; and the Ministry's provision of timely feedback to stakeholders.
The four key financial services regulatory initiatives that are expected to continue or commence in 2021 broadly relate to tax transparency, and AML/CFT/CFP (anti-money laundering, countering the financing of terrorism, and countering the financing of proliferation).
CFATF/FATF
As industry is aware, the Hon. Attorney General is responsible for AML/CFT/CFP in the Cayman Islands. The Anti-Money Laundering Unit (AMLU), under the Attorney General's remit; and the National Coordination Team, which reports to the Anti-Money Laundering Steering Group and the Ministerial Sub-Committee, are coordinating these efforts nationally. By its nature, financial services' sustained success relies on a strong AML/CFT/CFP framework.
The Financial Action Task Force (FATF) sets the global standard for AML/CFT/CFP. The Caribbean Financial Action Task Force (CFATF), which is an FATF-style regional body, assesses and supports the development and implementation of the FATF standard in this region.
CFATF's March 2019 Mutual Evaluation Report (MER) of the Cayman Islands made recommendations regarding Cayman's AML/CFT/CFP technical compliance and effectiveness. Since then, the jurisdiction has made significant progress in addressing the recommended actions. Agencies involved in Cayman's response are continuing their work to bolster our AML/CFT framework.
Based on this, and progress made by other Government agencies in their respective legislative areas, Government has asked, and CFATF has agreed, to re-rate Cayman on technical compliance.
The current re-rating exercise by the Group of Experts, in conjunction with CFATF, reviews technical compliance, based on the FATF 40 Recommendations (relating to the legislative and institutional framework of the jurisdiction, as well as the powers and procedures of competent authorities). The Joint Group of the Americas (a sub-group of FATF) will assess whether sufficient progress has been made since the publication of the MER, with respect to the FATF's 11 Immediate Outcomes for effectiveness.
CFATF is expected to announce its re-rating decision early next year. FATF will announce its assessment of Cayman's legislative effectiveness at its plenary, scheduled for 21-26 February 2021.
EU Fourth Anti-Money Laundering Directive (4AMLD)
On 7 May 2020, the European Commission adopted a new delegated regulation in relation to high-risk third countries that have strategic deficiencies in their AML/CFT regimes. The delegated regulation is a part of the 4AMLD, which is one of the pillars of the EU's legislation to combat money laundering and terrorist financing. Accordingly, the EC plans to assess high-risk third countries that it considers as having strategic deficiencies in their regimes. Following this process, those jurisdictions that the EU identifies as high-risk will be placed on its AML list.
Jurisdictions that the FATF has identified as having strategic AML deficiencies will be considered by the EU for inclusion on its list. However, the EU also may impose additional AML requirements, as part of its own assessment process.
The AMLU and the Department for Financial Services Policy and Legislation (DFS) are now analysing the 4AMLD Methodology and comparing it with the FATF's Methodology and Cayman's AML regime.
The effectiveness of accessing information on trusts and legal arrangements; and any necessary enhancements to improve Cayman's overall framework for transparency and cooperation, are identified as two areas requiring additional exploration.
Beneficial Ownership
To meet the Cayman Islands' commitment to introduce a public register of beneficial ownership information, as this becomes the global standard, Cayman's legislation and systems will continue to be refined and improved. Part of this work includes testing the current framework to ensure that General Registry, as the designated competent authority, has appropriate access to information, including to information held by other authorities within the Cayman Islands.
Industry is reminded of the connection between beneficial ownership and the EU's list of non-cooperative jurisdictions for tax purposes. Specifically, the EU listing criteria, approved by the Council in November 2016, includes the following reference: "Future criterion: in view of the initiative for future global exchange of beneficial ownership information, the aspect of beneficial ownership will be incorporated at a later stage as a fourth transparency criterion for screening."
This reference was again reiterated in the Code of Conduct Group (Business Taxation)'s 20 November 2020 report.
The Ministry believes Cayman's existing beneficial ownership regime and our commitment to introduce a public register of beneficial ownership as it becomes a global standard should be sufficient to address any EU concerns. However, DFS will continue to monitor and evaluate these developments.
Partnerships
Industry is aware that the Cayman Islands International Tax Co-operation (Economic Substance) Law requires relevant entities, which carry on relevant activities, to satisfy the economic substance test relating to that activity; and that currently, this law does not apply to partnerships.
However, the EU, through its Code of Conduct Group (Business Taxation), has recently stated that economic substance commitments made by the Cayman Islands and certain other countries in 2017 should extend to relevant partnerships. Please note this excerpt, also taken from the Code of Conduct Group (Business Taxation)'s 20 November 2020 report:
"43. The ECOFIN Council endorsed in December 2019 the activity-based approach for partnerships under criterion 2.2, set out in annex to the Group's 6-month report, as well as a common approach for activating exchange of information with jurisdictions under criterion 2.2.
44. In December 2019, the Commission services wrote to the 2.2 jurisdictions concerned to inform them of this decision and share with them the questionnaire. Jurisdictions were asked to reply by 15 February 2020. All jurisdictions replied and the Commission services sent follow-up questions where needed.
45. On 21 September 2020 the Fiscal Attachés examined a progress report on partnerships under criterion 2.2 and agreed on the way forward.
46. The Member States concluded that Anguilla, Barbados, Bermuda, British Virgin Islands, Cayman Islands, Guernsey, Isle of Man and Jersey should extend their economic substance requirements to all relevant partnerships which were identified to fall out of the scope of existing legislation.
47. It was also agreed that without (sic) this was already covered by the commitment of the jurisdictions concerned to comply with the scoping paper for criterion 2.2. and a new commitment was not required. The following timeline should apply to the relevant jurisdictions to adopt and put into effect the necessary amendments to their legal framework so that this could be taken into account in the October 2021 listing update:
(a) by 30 June 2021 for the adoption of necessary amendments;
(b) by 1 July 2021 for the entry into force with a maximum 6-month transition period for existing entities."
DFS and the Department for International Tax Cooperation are analysing all types of partnerships in the Cayman Islands, the rationale for their initial exclusion from economic substance requirements, and the outcomes of applying economic substance requirements to partnerships factor into Cayman's next steps in relation to the EU's request. Industry consultation on partnerships will commence on 5 January 2021.
Mandatory Disclosure Rules (MDRs)
In June 2018 an EU Code of Conduct Group paper introduced MDRs as a further transparency measure for criterion 2.2 jurisdictions. The Cayman Islands subsequently gave a commitment to the EU to consult on MDR with its stakeholders, using the OECD's MDR framework as the guideline for meeting the EU's request.
This commitment applies to all 2.2 jurisdictions, some of whom have already approved their MDR regulations.
Industry consultation on the implementation of MDR in the Cayman Islands will commence on 2 February 2021.
---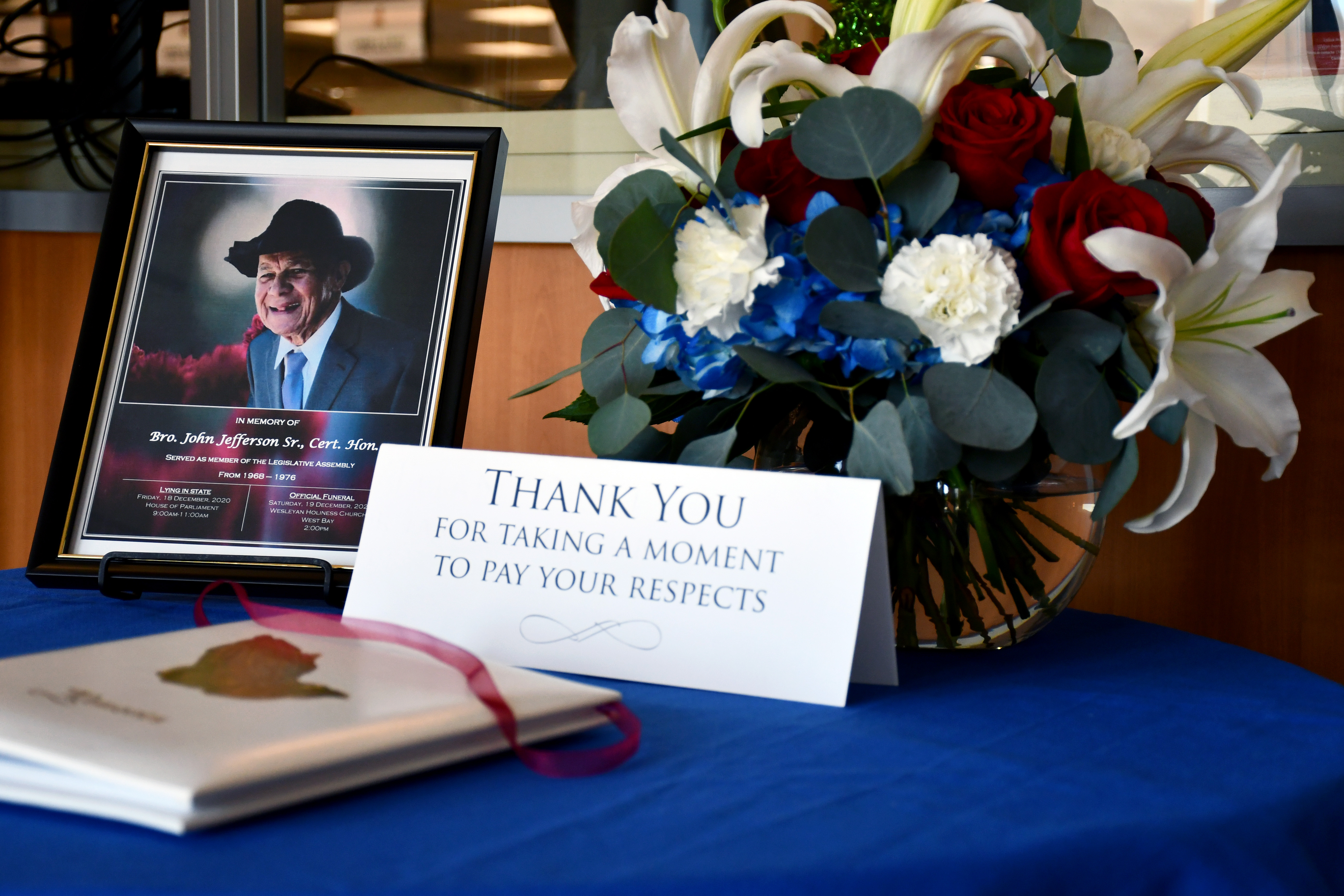 On Saturday, 19 December 2020, an official funeral will take place to commemorate the life of former Member of Legislative Assembly, John Jefferson Sr., known to all as "Chef John" or "Bro. John".
Mr Jefferson, who passed away on Saturday, 12 December 2020, is entitled to receive an official funeral, as a result of his service as a legislator. Current and former post-holders of the most senior public service positions are entitled to this honour.
Tributes were paid to Mr Jefferson, who had represented West Bay as MLA from 1968 – 1976, at the Parliamentary sitting on Monday, 14 December.
Official observances include a public lying-in state at the House of Parliament from 9-11a.m. Friday, 18 December. Proceedings will also be shown live on CIGTV's YouTube and cable channels.

After this, in a motorcade organised by the family, the hearse carrying Mr Jefferson followed by the Speaker of Parliament, district representatives and family members, will undertake a final drive-through of the district that he served. Persons who live along the route are encouraged to stand in their doorways or yards to wave.

This will be followed by a public viewing at George Town Wesleyan Holiness Church, where he had previously ministered to community residents, which was also organised by the family.
The official funeral service will take place at 2p.m. at Wesleyan Holiness Church in, Northwest Point, West Bay on Saturday, 19 December, with the interment to follow at the West Bay Cemetery on West Bay Road. The church service will air live on CIG TV YouTube only.

Cabinet Secretary Samuel Rose JP remarked: "Even after he left the legislature, Bro. John was widely respected across the public sector and wider community, for his rich and varied contributions to local life. The official funeral will pay tribute to a beloved cultural icon, while allowing the community and nation to offer deepest condolences to his family."
Members of the public are invited to pay their respects by signing official books of condolence in the Government Administration Building Lobby and at the House of Parliament.
Cayman Islands flags at the Government Administration Building and other Government buildings were flown at half-mast on Monday, 14 December, and will fly at half mast again on Friday, 18 December the day before his funeral.
---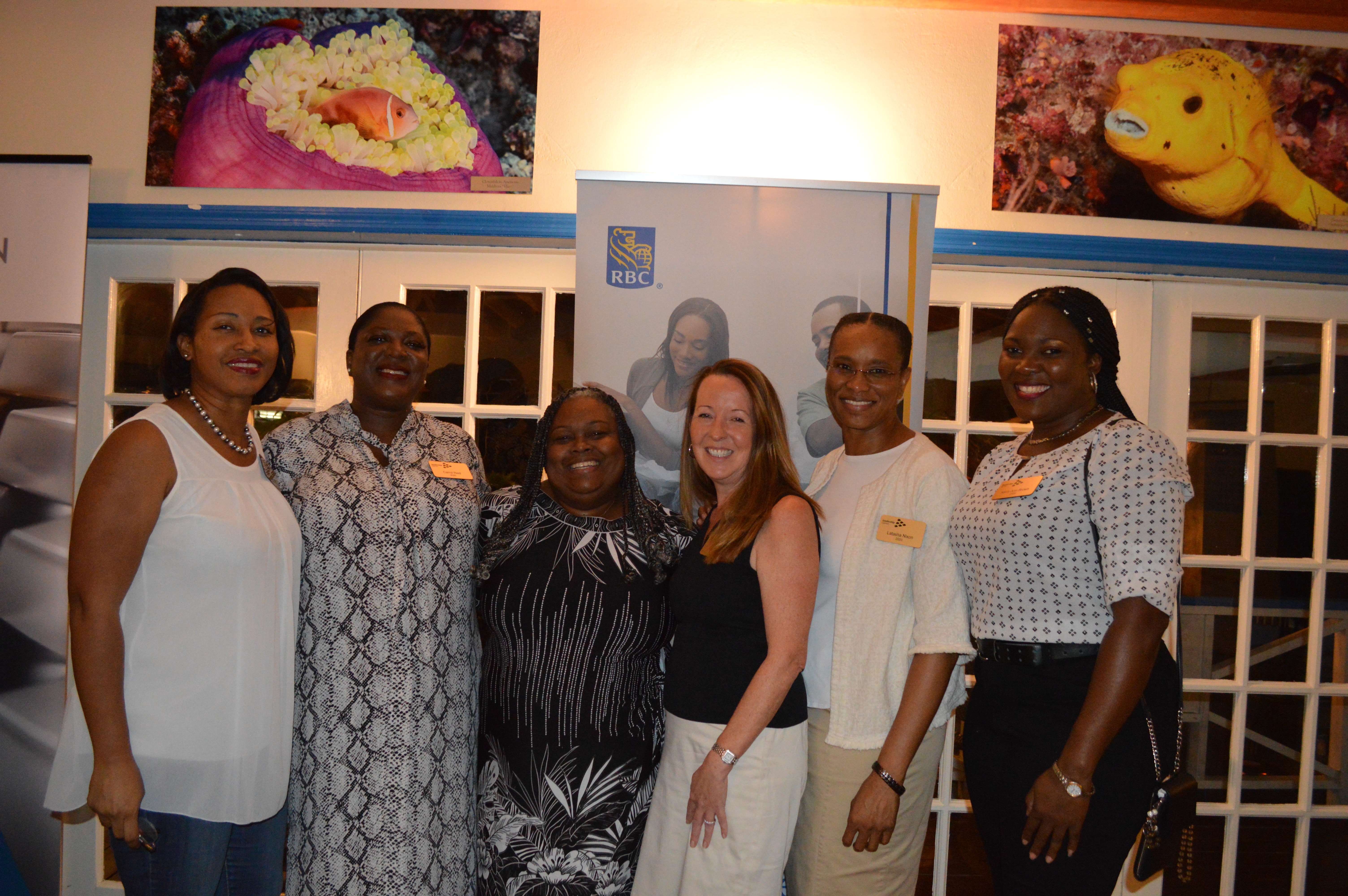 Denize Solomon, Carrol Reid, Joy Oremule, Antonia Furniss, Latasha Nixon, and Kerry-Ann Brown (LC2020 members).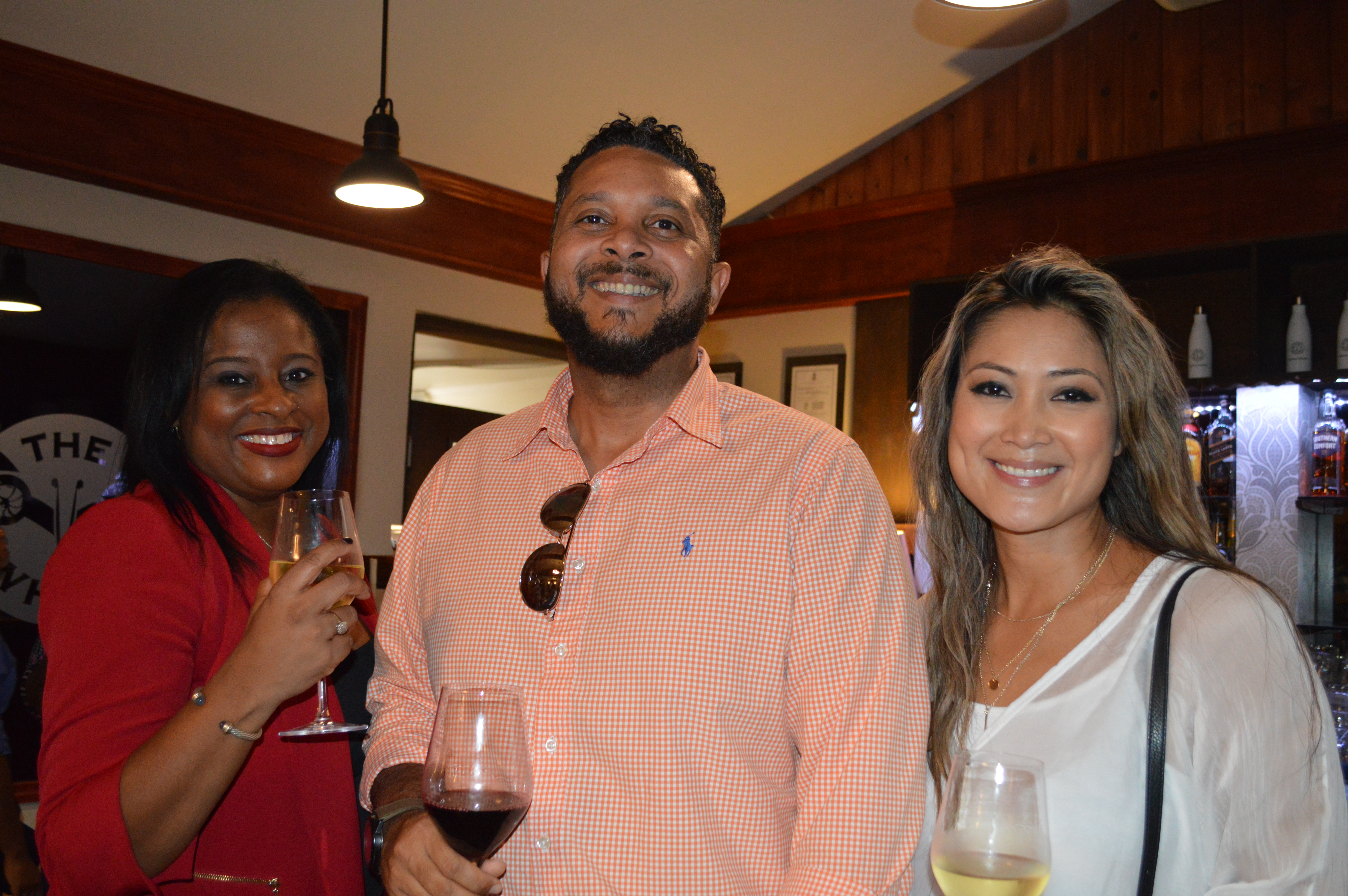 Kafara Augustine, Shomari Scott, and Giselle Passchier.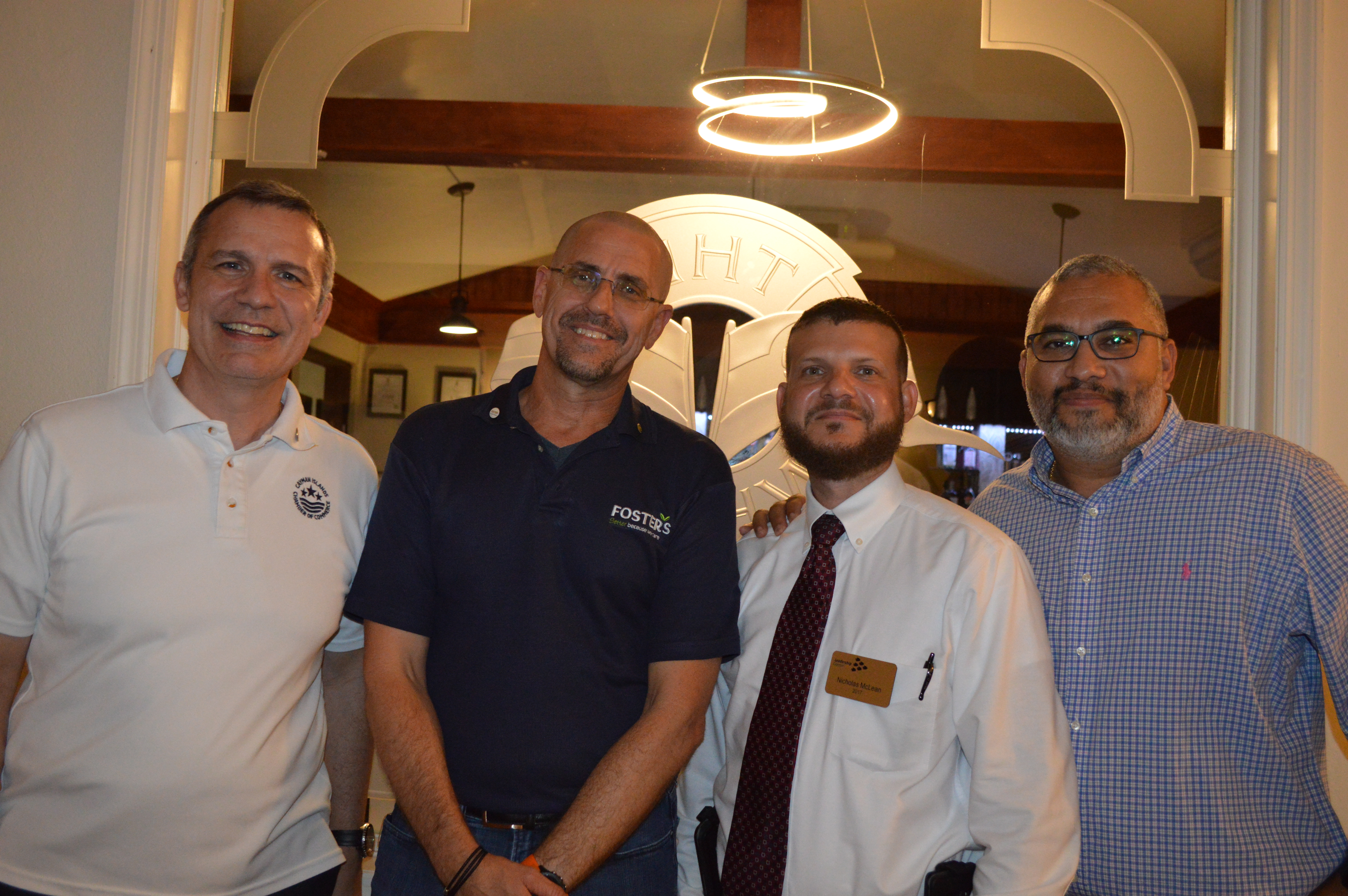 Wil Pineau, Woody Foster, Nicholas McLean, and Johann Moxam.
Approximately 50 persons recently gathered for a Thursday evening happy hour where the newest entrants to the Leadership Cayman Alumni were welcomed. The newly graduated Leadership Cayman Class of 2020 mingled with the esteemed Alumni group for the first time, and who also invited potential candidates for the Leadership Cayman 2020 programme as their special guests.
Chamber President, Woody Foster, and Chair of the upcoming Leadership Cayman 2021 programme, Nicholas McLean, were the main speakers.
"Leadership Cayman brings together promising leaders and exposes them, through structured seminars and tours, to important information which influences the social, political and economic affairs of the Islands" Chamber President, Woody Foster, said.
"The ultimate aim of this programme is to help our leaders develop new skills and enhance existing ones, as well as trigger awareness and interest in the important issues affecting the islands," he said.
He encouraged potential candidates to apply to the 2021 programme and acknowledged the competitiveness of the programme but wished each candidate success as they apply to become a member of the Class of 2021.
Chair of the Leadership Cayman 2021 programme, Nicholas McLean, spoke about his personal experience as a member of the Class of 2017. He also described what the Leadership Cayman motto, Connect. Grow. Inspire., means to him. McLean also expressed how much he is looking forward to a successful 2021 programme.
Leadership Cayman 2021 attracted almost 50 applications for the 24 spaces available. Applicants must be at least 25 years old by January 1, 2021; have lived in the Cayman Islands for a minimum period of 12 months and must be in at least a middle-management position at their current place of work.
The Leadership Cayman programme is a six-month intensive course, introduced by the Cayman Islands Chamber of Commerce, that enables class members to develop new skills and learn an vital information about the Cayman Islands' community and business sector. The class attend bi-weekly seminars on a range of different topics, learning from expert and local leaders who facilitate each session. The class also meet with government officials and keynote speakers, and the programme is the only one of its kind in the Cayman Islands.

The programme was first launched in 2009 and, since its inception, hundreds of individuals have developed their skills and grown into influential and knowledgeable leaders and now form an Alumni group.
Leadership Cayman is sponsored by three major sponsors, Cox Lumber Ltd., RBC Royal Bank (Cayman) Limited, and Wheaton Precious Metals, as well as the various seminar sponsors who have supported the Chamber in making the 2020 programme a success.
---
The Department of Vehicle and Drivers' Licensing (DVDL) would like to notify the public of the upcoming opening hours:
All DVDL locations
• Friday, 18 December – All offices closed for staff function
• Thursday, 24 December – All offices open at 8:30 a.m. close at 12:00 noon
• Monday, 28 December – All offices closed
• Thursday, 31 December – All offices open at 8:30 a.m. close at 12:00 noon
• All offices will be closed for Christmas, Boxing (observed) and New Year's Day.
Crewe Road location
• Monday, January 4 – Offices open for business as usual.
West Bay and Breakers locations
• West Bay and Breakers locations – will adjust hours of operation on Thursday, 17 December – opens at 8:30 a.m. and closes at 4:00 p.m.
• Will be closed on Saturday, December 26.
• Saturday, January 2 – Offices will re-open for business as usual.
Customers are reminded that they can renew their vehicle licence online via DVDL's website at www.dvdl.gov.ky or through the e-services portal www.eservices.gov.ky.
---