Public Holidays for 2021 Announced / tonie
The Office of the Deputy Governor has confirmed the list of public holidays in the Cayman Islands for 2021.
Christmas Day and Boxing Day which fall on a Saturday and Sunday respectively will be observed as official public holidays in the Cayman Islands on Monday, 27 and Tuesday 28 December 2021 respectively.

Official Public Holidays for 2021 are as follows:?
New Year's Day: Friday, 1 January;?
National Heroes Day: Monday, 25 January;?
Ash Wednesday: Wednesday, 17 February;?
Good Friday: Friday, 2 April;?
Easter Monday: Monday, 5 April;?
Discovery Day: Monday, 17 May;?
Queen's Birthday: Monday, 14 June (unconfirmed);?
Constitution Day: Monday, 5 July;?
Remembrance Day: Monday, 15 November;?
Christmas: Monday, 27 December (observed); and?
Boxing Day: Tuesday, 28 December (observed).
---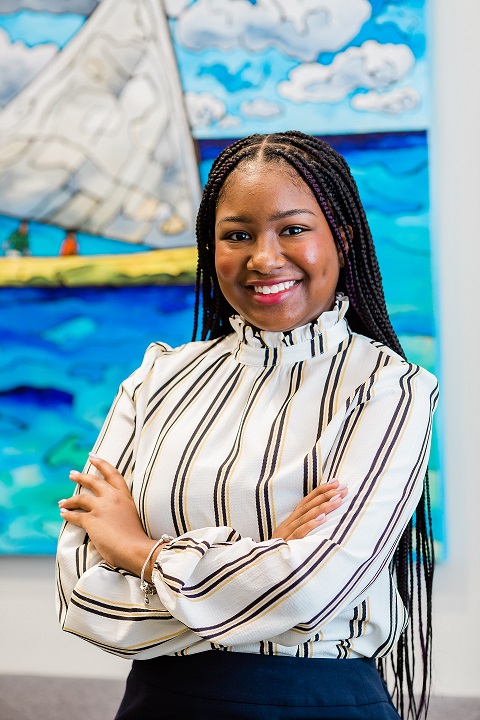 Conyers is pleased to announce that former St. Ignatius student Justine Rhule has been chosen as the 2020/2021 recipient of the firm's academic scholarship, known as the Conyers' Legal Education Award. Justine starts her first year of Law at the University of Warwick this month. "I am extremely grateful that Conyers have decided to invest in my future by providing both financial assistance as well as mentorship support in my course of study for my tertiary education. I look forward to developing transferable skills, applying them to a corporate environment and fostering the growth of the legal profession. As I enter this new and exciting chapter of my educational life, I am deeply thankful to have the support of Conyers every step of the way."
Last year's scholarship recipient Selena McLaughlin's scholarship was renewed and she looks forward to starting her Legal Practice Course at the University of Law, Manchester this month. "I am deeply honored to have been awarded the legal scholarship with Conyers which has allowed me to carry out my studies at the University of Liverpool and now the University of Law for my Legal Practice Course," said Selena. "Conyers has offered a life changing experience by introducing their recipients to a network of lawyers and articled clerks who offer guidance throughout our studies as well as an internship giving us first hand experiences in the industry."
Conyers Cayman's Legal Education Award awards students with US$25,000 for the first year, renewable for a maximum of three further years, subject to satisfactory academic progress.

In addition to financial support, Conyers provides its scholarship recipient with four-week paid summer internships and mentorship opportunities throughout their course of study.
To learn more about Conyers Legal Education Award visit conyers.com/about-us/careers/graduates-students/
---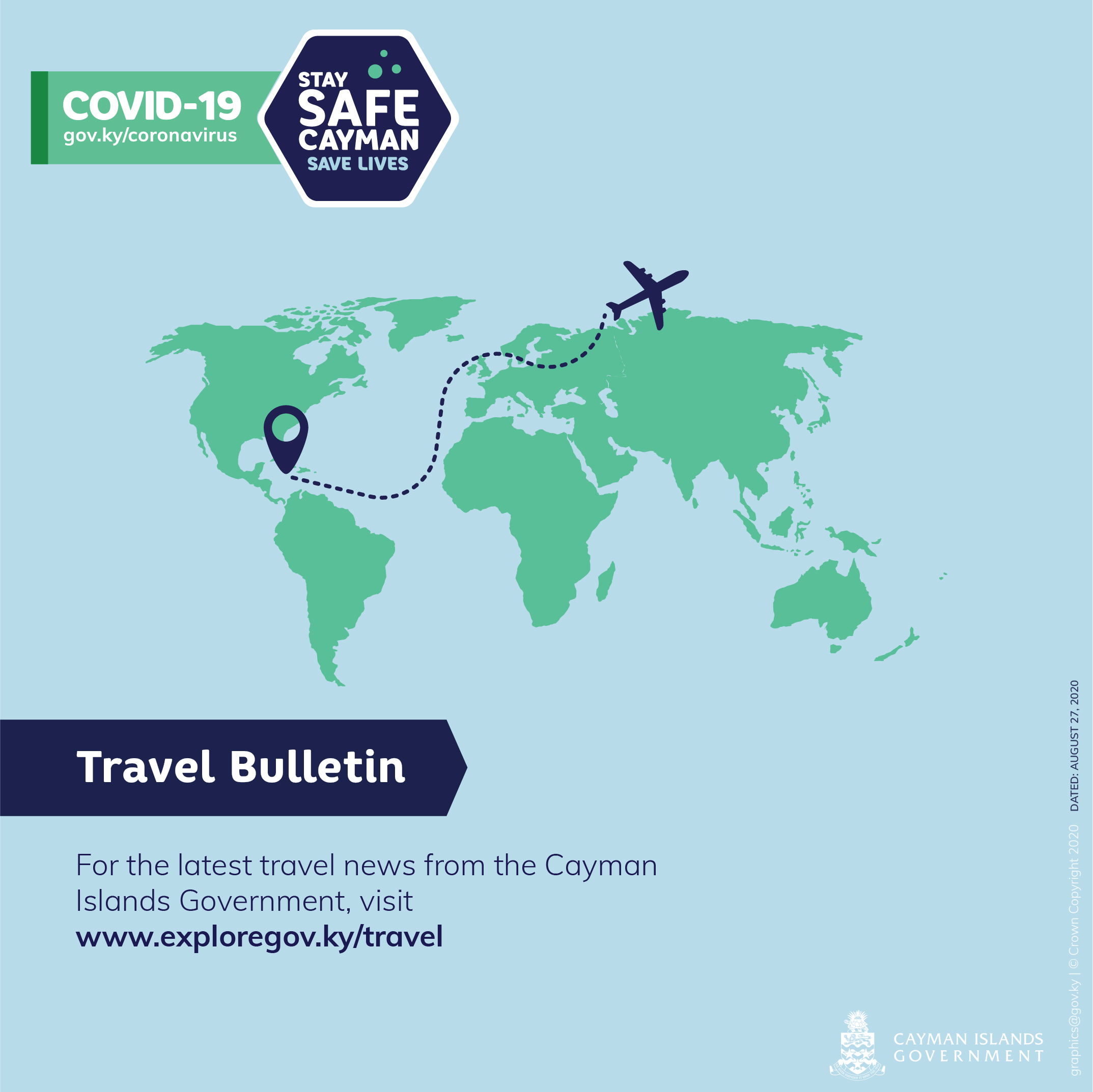 It was announced today, Thursday 15 October 2020, that there will be key changes to the inbound travel process to the Cayman Islands.
Travellers are now able to book repatriation flights directly with the approved airline carriers: Cayman Airways and British Airways. Although Travel Cayman approval is still required prior to entering the Cayman Islands, this will remove the requirement for travellers to seek entry approval before purchasing a ticket to fly from La Ceiba, Honduras; Kingston, Jamaica; or Miami, Florida.
The Travel Cayman management team's pivotal role is to ensure that quarantine options are managed in relation to inbound travel and the availability of government, private and quarantine at residence options. This also determines the supply of monitoring technology to travellers who require them for safe quarantine protocol.
Applications are prioritised weekly, based on the coming week's number of travellers, and flight clearances. The public are asked not to call or email unless they are travelling to the Cayman Islands in October. Travellers to the Cayman Islands in October need not reapply.
Note: Some airlines are offering flights to the Cayman Islands and accepting future bookings but only Cayman Airways and British Airways have permission to offer repatriation flights for approved travellers.
New portal in development
A new online portal is in development which will reduce the need to call and email the Travel Cayman team. The new portal will be launched in the coming days allowing travellers to select quarantine arrangements and submit travel plans online, removing the need for manual responses to each query.
November inbound process
Travellers may book flights directly with Cayman Airways for November. For British Airways flights travellers may book directly with British Airways for the approved repatriation flights scheduled on 12 and 26 November 2020.
Travellers may apply for quarantine arrangements via the Travel Cayman portal.
Travellers who have already applied for November arrival are asked to reapply in order to select quarantine options. The public has been asked to wait to apply for quarantine arrangements until the new portal has been launched.
Traveller arrival will be subject to the same quarantine arrangements and persons will have a choice of 3 quarantine options.
1. Quarantine at a Government-Run Facility: This option is available to Caymanians and those with Permanent Residency.
2. Quarantine at a Privately-Run Hotel: If you wish to quarantine at any of these facilities, please contact the facility directly. Once booked, provide Travel Cayman with your reservation number to complete the processing of the application for travel to the Cayman Islands.
3. Quarantine at Residence: The private residence can be the traveller's home or private residence. This cannot be a shared dwelling. Travellers who agree to the Quarantine at Residence programme, must agree to: wear an iMSafe smart wristband; and undergo COVID-19 testing on arrival at the Owen Roberts International Airport and again on day 15; and remain in isolation for a minimum of 14 days. A day 15 negative test result, sign-off by the Medical Officer of Health and off-boarding by the Mobile Compliance Team will be required in order for the quarantine period to cease. The off-boarding process includes inspection and collection of the smart wrist band and retrieval of the mobile device.
December inbound process
The Cayman Islands Government is currently working with Cayman Airways and British Airways to establish the level of demand and quarantine arrangements required for December. Government continues to caution residents that travel should be limited to essential or medical needs only. Due to the fluid nature of the COVID-19 pandemic, border decisions will continue to be evaluated and processes are subject to change.
For the latest travel information visit www.exploregov.ky/travel
Travel Cayman contact details: Email at TravelCayman@gov.ky. Call +1 345 743 8463 or 649-6913. Phone lines are open 8.30am to 5pm, Monday through Friday.
Side bar: Quarantine at residence criteria
At this time, October inbound flights are fully booked and availability of quarantine choices has been taken into consideration. The choice of quarantine location is granted if the accommodation meets the following standards:
Access to running water and electricity.
Access to bathroom facilities that are in good working order and are not shared with persons outside of the quarantining group, and provide a shower/bath, toilet and sink and a supply of hot and cold water.
Access to kitchen facilities that are not shared with any persons outside the quarantining group, with access to hot and cold water.
Adequate ventilation, with a window(s) that can be opened to allow fresh air to circulate.
Where there is A/C, there is a self-contained air-handling system, which ensures that units do not circulate air to other residences. Access to either curb-side pickup for garbage or a central garbage.
Access for the delivery of foods and medications.
Access by the Mobile Compliance Team to conduct random checks over the period of quarantine.
The majority of property inspections are completed by the mobile compliance team on behalf of the Medical Officer of Health. In most cases assessments can be made without entry to the property, and if access is required property owners will be contacted for entry.
Persons who are neither Caymanians nor Permanent Residents and do not have a private residence to quarantine in, or whose private residence is not approved will need to book a private facility for quarantine.
Eligibility to enter
Flights to the Cayman Islands are repatriation flights only and at this time are not available to short-term vacationers, as all persons entering are required to complete the mandatory 14-day quarantine with a further COVID-19 PCR test on day 15.
Inbound travel is currently limited to the following persons:
– Caymanians,
– Permanent residents,
– Work permit holders and their families,
– Persons who own residential property in the Cayman Islands,
– Students with a valid visa to study in the Cayman Islands,
– Persons with close family ties to residents or work permit holders
– spouses, fiancés, parents, grandparents and siblings.
---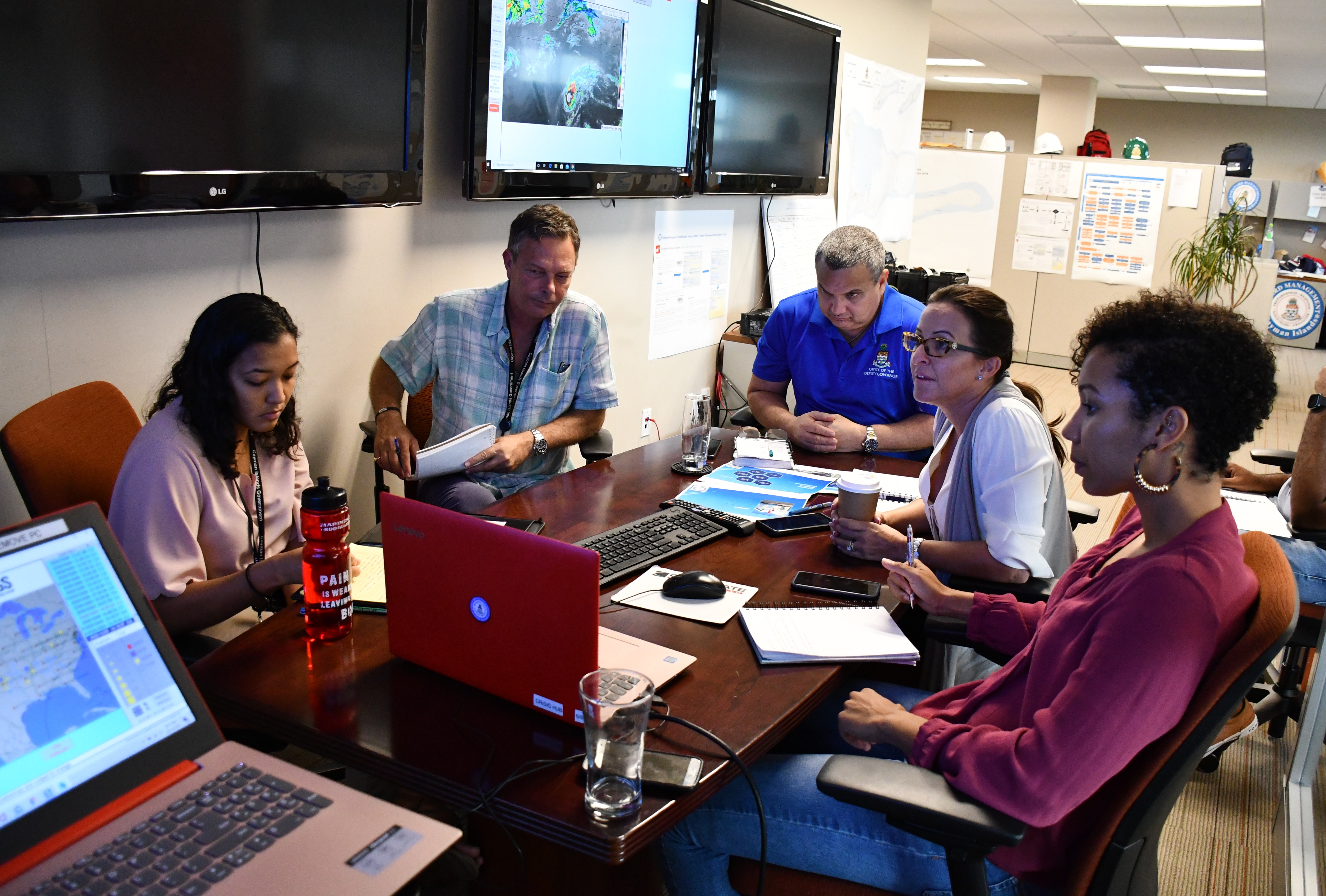 Following the passage of Hurricane Delta, teams from across the civil service came together on Friday, 9 October 2020, to debrief on the incident and evaluate lessons learned.
Deputy Governor, Hon. Franz Manderson, who chaired the meeting as the head of National Hazard Management Council, praised the civil service, including first responder, agencies, for an effective response to Hurricane Delta.

The meeting began with a recount of the weather forecast by Director General of the Cayman Islands National Weather Service, John Tibbetts. During his presentation, Mr Tibbetts highlighted the rapidly changing nature of Hurricane Delta, which altered its course and intensified several times on its approach to the Cayman Islands.
In the absence of time for an 'Alert' or 'Watch', there was a very short window to shutter Government buildings and provision shelters. Despite these challenges, procedures worked generally well, with shelters stood up to provide refuge for residents across Grand Cayman, Cayman Brac and Little Cayman.
Hazard Management Cayman Islands (HMCI) have agreed to look at how the national disaster response mechanism can be rolled out faster for rapid onset weather events, in collaboration with the stakeholder agencies within the National Emergency Operations Centre (NEOC).

While the impact to the Cayman Islands was limited, HMCI Director, Danielle Coleman noted that the chance of a far greater impact existed and therefore demanded the heightened government response seen on Monday, 6 October.
"Rolling out a national response across the civil service and first response agencies takes significant time and effort to mobilise. As such, to protect property and save lives when faced with an uncertain threat, our approach will always be to have scope to scale down, rather than needing to rapidly scale up at the last minute," Ms Coleman said.
During the meeting, it was widely noted that lessons learned and systems improved during the ongoing COVID-19 response had greatly streamlined processes for the NEOC. The utilisation of virtual meetings to facilitate ongoing internal communications at short notice and frequent intervals was mentioned in particular.
The plan, should telecommunications have gone down, was to use a Ultra High Frequency (UHF) Radio communications system, which is an extremely robust system that was not required during this incident.
For a short period of time on Monday, 5 October the Cayman Prepared and National Weather Service websites were both offline due to extremely high levels of traffic. Both websites are already scheduled to transition to a new platform, which will significantly decrease the likelihood of service interruptions in the future.
The meeting also received an update on the expansion to the National Emergency Notification System. A project to substantially expand the system, to distribute emergency alerts to the public through a mobile app, email and SMS from a centralised interface, is well underway. Given its capability to deploy mass public safety communications, the team responsible are working to launch as soon as it is reliably able to do so. This is currently expected to be in the latter quarter of 2020.
The NEOC call takers took calls from 9p.m. on Monday, 5 October through to 1p.m. the next day. Fourteen calls were received relating to weather updates and shelter enquiries.
Both the Red Cross and John Gray High School shelters were activated. Twelve shelter managers responded in total across both shelters, along with two RCIPS officers who aided at the Red Cross centre. One individual sought shelter at Red Cross, while no one sheltered at John Gray.
During activation, particular consideration was given to maintaining the safety of those in COVID-19 isolation, as well as the integrity of prevention protocols. Two requests to relocate individuals in home isolation to government facilities were received and promptly actioned, while the Cayman Islands was under the Tropical Storm Warning. All were returned to their homes once the all clear was given, to complete their required quarantine.
Connectivity of the geo-fencing technology that is an essential component of the programme that allows persons to quarantine at private residences, remained stable without any issue. Both the isolation and monitoring teams worked through the night from Monday, 5 October, along with the mobile response team who were on standby in the event that they were required to activate at short notice.
Community Emergency Response Teams (CERT's) were deployed across Grand Cayman and Cayman Brac. They were tasked with disseminating vital preparedness information to residents and conducted wellness checks on the most vulnerable in their communities. They were also on the ground to provide status updates during the storm's passage as well as impact assessments once the storm had passed.
The Cayman Islands Fire Service activated contingency plans to increase resourcing capacity and prepare for inshore search and rescue support from Monday, 5 October. No significant incidents were reported.
The Cayman Islands Regiment was not required to deploy for this incident though members were part of the initial planning process.
Reflecting on the collective response to Hurricane Delta, Deputy Governor, Hon. Franz Manderson said, "As Chair of the NHMC, I am grateful that Hurricane Delta spared the Cayman Islands any significant damage. Leadership by the Premier, Governor and members of cabinet ensured we were blessed with this outcome. I would like to thank NEOC members who worked tirelessly with one mission in mind: to keep you safe. Teams from across the Public Service including HMCI, NWS and communications along with the emergency services, shelter operators and health services providers worked seamlessly together. This large-scale mobilization kept us all safe; we now remain well-prepared and vigilant while the 2020 Hurricane Season is ongoing."
---
The Cayman Islands has been named 'Best Private Equity Fund Domicile' at the 2020 Private Equity Wire US Awards.
The awards, hosted by industry publication Private Equity Wire, were announced at a virtual ceremony on 8 October 2020. "The winners represent the best in the US private equity industry, from GPs to service providers, covering all the various parts of the private equity ecosystem," the publication stated.
Bloomberg partnered on the awards, providing the data on which shortlists of finalists was selected before a vote by industry representatives. "This means that winning a Private Equity Wire award constitutes a vote of recognition from your peers and a significant mark of achievement, particularly so in this extraordinary year," a PE Wire release stated.
Responding to the announcement of the award, Cayman Finance CEO Jude Scott said this was further validation of the Cayman Islands as a leading tax neutral hub that efficiently supports global economic growth and recovery.
"Cayman is an excellent example of a well-regulated jurisdiction that is a significant source of global liquidity," said Mr Scott. "As a leading international financial centre, the Cayman Islands financial services industry's leading role in the global financial system continues to provide benefits to governments and their citizens around the world, especially as they recover from the economic impact of COVID-19."
More than 23,000 investment funds are domiciled in the Cayman Islands. In fact, 70 percent of non-US domiciled alternative investment funds managed by US Securities and Exchange Commission-registered advisors are domiciled in the Cayman Islands.
---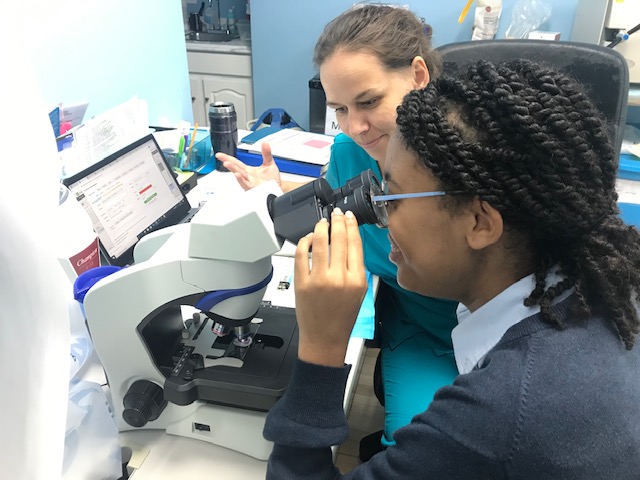 Returning mentor, Rebeca De Miguel with past mentee, Brianna Ebanks.
Applications are now being accepted from persons who are willing to serve as mentors to high school students for the 2021 Mentoring Cayman programme. Mentoring Cayman is a signature programme of the Chamber of Commerce and is endorsed and supported by the Ministry of Education, Youth, Sports, Agriculture and Lands. Since its launch in 2002, the programme has assisted more than 2,000 public and private high school students and mentors.
"Mentorship gives students the opportunity to form long-term relationships with business professionals who will help them develop invaluable skills and maximise their potential to become the next generation of business and community leaders. It is a great way to support Cayman future leaders," said Wil Pineau, Chamber CEO. "Special thanks to the Ministry of Education, Cayman Water, Cox Lumber, Deloitte, Knighthead Annuity & Life Assurance Company, and Rocky's Diamond Gallery for their ongoing support of this important youth development initiative."
The 6-month programme pairs top-achieving students with mentors from the business community and government to provide them with advice and guidance to achieve their education and career aspirations. All mentors are required to be certified under the Stewards of Children – Darkness to Light training programme and must obtain a police clearance. Mentors are matched with high school students based on their mutual interests and must receive permission from their employer to participate.
Applications can be submitted to online https://www.caymanchamber.ky/mentoringcayman.html or via email to mentoring@caymanchamber.ky.
The final deadline for applications is Monday, 19th October.
---