Bulk Waste Campaign in Full Swing / tonie
Christmas comes early every year at the Department of Environmental Health (DEH) as crews head out to tackle the hard, long days of cleaning-up the islands during their bulk waste campaign activities.
The campaign which commenced its annual bulk waste removal activity on Monday, 16 November has seen bulk waste collections and clean-ups in both East End and at the Bodden Town Civic Centre.

The campaign will continue in Bodden Town next week before moving into the other districts and onto Cayman Brac and Little Cayman. The campaign will continue until its conclusion on 19th December.
"This is a job well done by our team so far. This is not easy work and it is done with such dedication, integrity and care for the community. Residents should continue to follow the guidelines for bulk waste collections and be ready for their collection dates," said Michael Haworth – Assistant Director, Solid Waste – DEH.
---
The Cayman Islands Customs and Border Control Service, the Royal Cayman Islands Police Service and the Chief Medical Officer are aware of media reports in relation to the ongoing Judicial Review proceedings into the search of the Doctors Express facility in September 2019.
As this case is currently before the court with a judgment pending, it would not be appropriate for any of the Respondents to comment on the circumstances of the case at this stage.
It is important to understand, however, that neither allegations and/or arguments made in Court by an Attorney on behalf of his/her client, nor media reports expressing an interpretation of matters arising in the course of proceedings, constitute evidence or findings of the Court.
---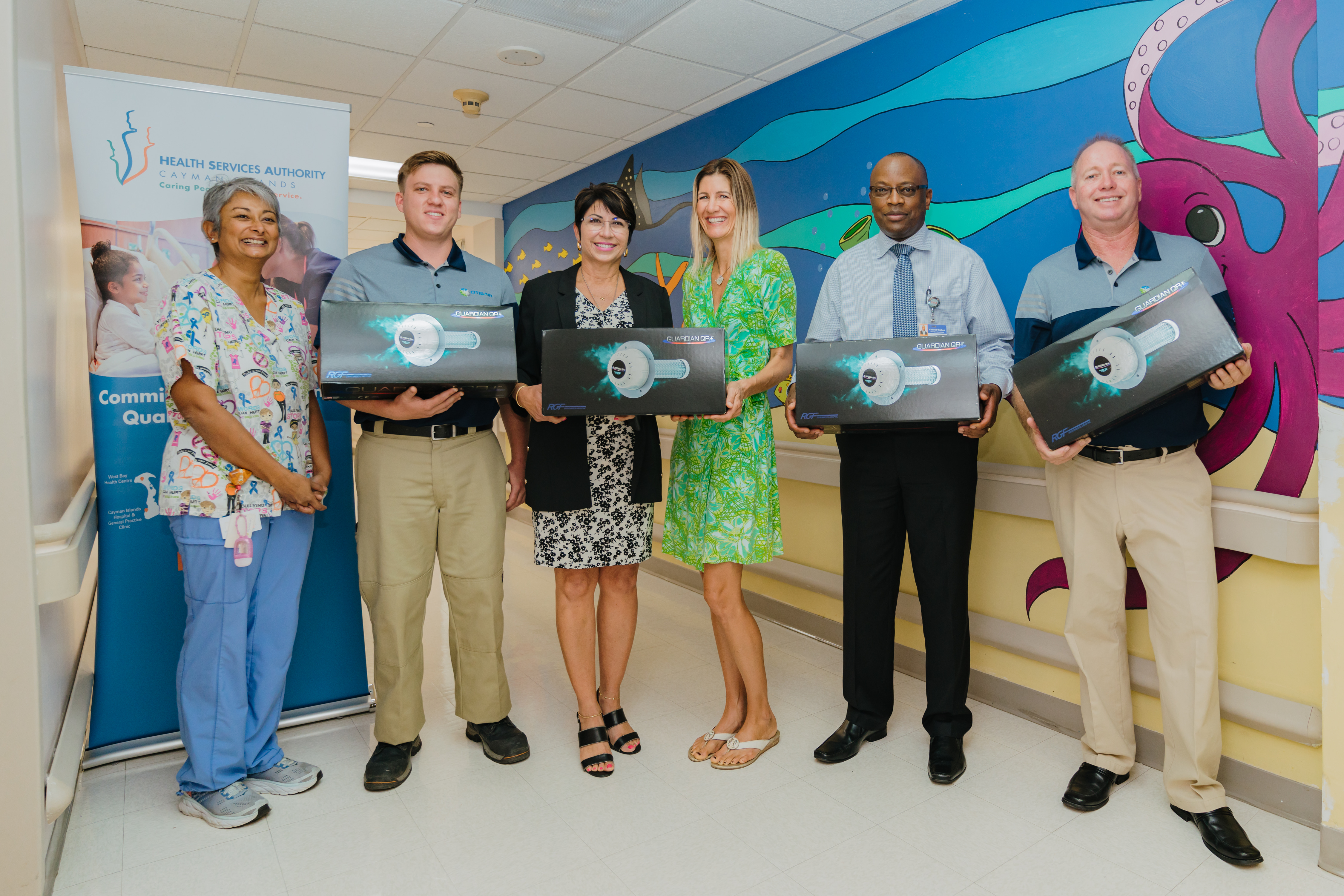 Ensuring that the air entering hospital patient care units is clear of airborne pathogens is more critical than ever during the COVID-19 pandemic. To further enhance the environment of care and strengthen the protection systems within the Cayman Islands Hospital, the Health Services Authority (HSA) has partnered with OtisAir and RGF Environmental Group, Inc to install a highly specialized in-duct air purification system that can significantly neutralize the SARS-CoV-2 (COVID-19) virus and other contaminants in the air.
The Guardian Air QR+ uses PHI-CELL® technology to destroy viruses, bacteria, mold, odors, air pollutants, volatile organic compounds (chemical odors) and smoke at source.
The unit will be installed in the existing air conditioning system where it creates airborne hydroperoxides for distribution throughout the air-conditioned space reducing airborne and surface microbial and pollutants and the risk of person to person infection.
"OtisAir and the RGF Environmental Group are delighted to be able to contribute to this initiative as a way of showing our gratitude to the HSA and frontline workers for the sterling service they are providing to their patients during the pandemic," said Nicola Platt of OtisAir.
RGF Environmental Group, Inc. kindly offered to supply seven units free of charge to the Cayman Islands Hospital and OtisAir have happily agreed to join them by facilitating the installation of the units at no cost.
"RGF's revolutionary air purification system can safely and effectively purify every cubic inch of air-conditioned space and assist in delivering a cleaner and better indoor air quality environment which is now more crucial than ever," said Astrid von Oetinger of RGF Environmental Group Inc.
"The HSA is thankful to have such benevolent industry partners like OtisAir and RGF Environmental Group Inc to aid in advancing the safety and care we provide to our patients," said Lizzette Yearwood, Chief Executive Officer of the HSA. "The installation of this system is but one example of the many precautionary measures we have been implementing to keep our patients safe during this time."
---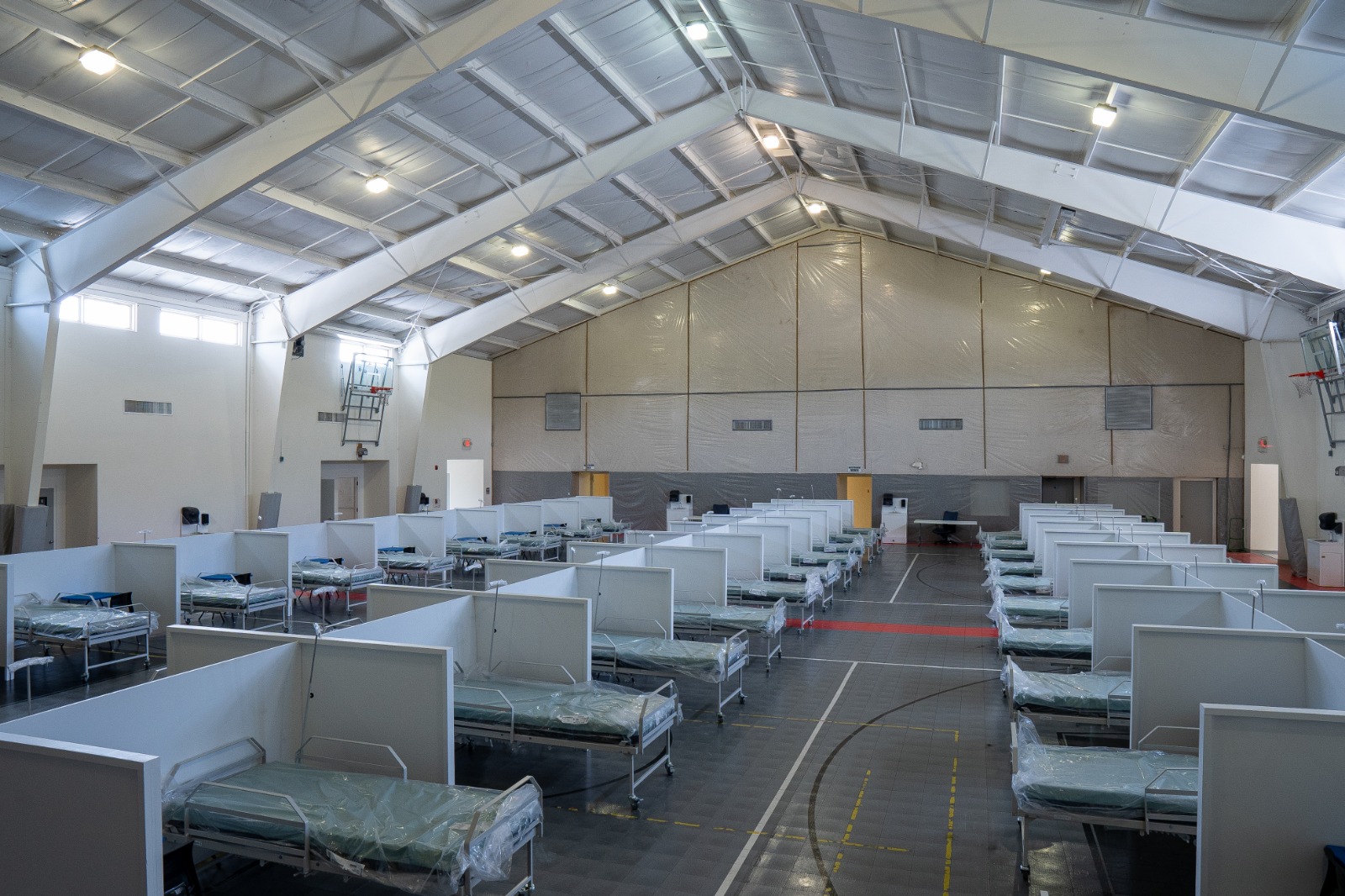 On Monday, 16 November, the UK Association for Project Management awarded the Cayman Islands Government winner of the social project of the year category. This was in recognition of the cross-sector project management approach taken for the construction and delivery of the field hospital that was set up to support the Cayman Islands' COVID-19 preparedness strategy.
The Association for Project Management (APM) is the only chartered body for the project profession, with over 30,000 individual members worldwide. They are committed to developing and promoting the value of project management in order to deliver improved project outcomes for the benefit of society.
The field hospital project was co-ordinated by the National Emergency Operations Centre (NEOC) and involved a collaboration across the government, private sector and charity sector to deliver bed capacity for the Health Services Authority (HSA) to be used in the event that the existing hospital capacity became insufficient.
The APM judges noted that the project had been delivered professionally, at pace, to provide the Cayman Islands with resilience capability and reassurance to the community. It was judged a successful response to an extraordinary set of circumstances.
Graeme Jackson, who had been seconded to the National Emergency Operations Centre, said: "It was an incredible project and my thanks and appreciation go out to everyone who turned an idea into a reality in a few weeks. This included various Government departments, the Church of God Family Life Centre and private sector partners all focused on creating the capability for the Health Services Authority."
Mr Jackson added: "The recognition by APM is yet another example of the Cayman Islands delivering world-class services, in addition to its enviable positioning as one of the safest countries in the world when it comes to our COVID-19 response."
Deputy Governor, Hon. Franz Manderson, said: "We are delighted that our Civil Service has been recognised for their world-class project management skills and for such an important project, which – thankfully – we have not had to utilise. Social project of the year is a tough category and I commend the other strong nominees in the category."
The facility is currently set up for 80 beds, with the capacity to expand to 100. For further information about the Association of Project Management Awards, please see: https://www.apm.org.uk/apm-awards/
---
The Ministry of Tourism is pleased to advise the public that more British Airways repatriation flights have been authorised during December 2020 and January 2021, bringing the total number of confirmed flights to six.
The approved flights between the UK and Grand Cayman are scheduled to depart London, Heathrow as indicated below and will return to the UK the following day. Travellers should contact British Airways or visit the BA website to make reservations.
• Thurs 3 December 2020
• Tues 8 December 2020
• Tues 15 December 2020
• Tues 5 January 2021
• Thurs 14 January 2021
• Thurs 28 January 2021
The new BA repatriation flights have been uploaded to the Travel Cayman online portal allowing inbound travellers to apply and to request their type of quarantine location.
While British Airways is one of the two airline carriers approved by the Cayman Islands government to operate repatriation flights to Grand Cayman, not every flight or holiday marketed on the BA website is authorised to enter the Cayman Islands. The Ministry has received reports that travellers are booking flights and vacations which are not approved and ultimately end up being cancelled.
To avoid booking a non-authorised flight, travellers are strongly encouraged to check official CIG channels prior to making reservations. The dates of confirmed British Airways flights into Grand Cayman are posted on the inbound travel section of the Exploregov.ky website and are widely circulated via the CIG's social media channels. Travellers who book flights that have not been posted on official CIG channels do so at their own risk and may incur additional fees when changing their booking to an authorised flight.

Until normal commercial airline service resumes, the air bridge between the UK and the Cayman Islands is providing a vital link between the two countries. However, because entry into the Islands is restricted to repatriation flights only, service is limited. The public is therefore urged to only consider travelling if it is essential and unavoidable.
Travel Cayman Application Process
Persons wishing to travel to Cayman must first register their travel request using the Travel Cayman online portal and must select their preferred quarantine option as part of their application process. If the traveller will quarantine with non-travelling household members, their details must also be entered at the same time. Questions or concerns should be directed to the Travel Cayman team by emailing TravelCayman@gov.ky or by calling 743 8463 between the hours of 8:30am and 5:00pm, Monday through Friday. The web address for the Travel Cayman portal is https://www.exploregov.ky/TravelCayman.
For the latest news and information regarding travel to and from the Cayman Islands please visit https://www.exploregov.ky/travel
---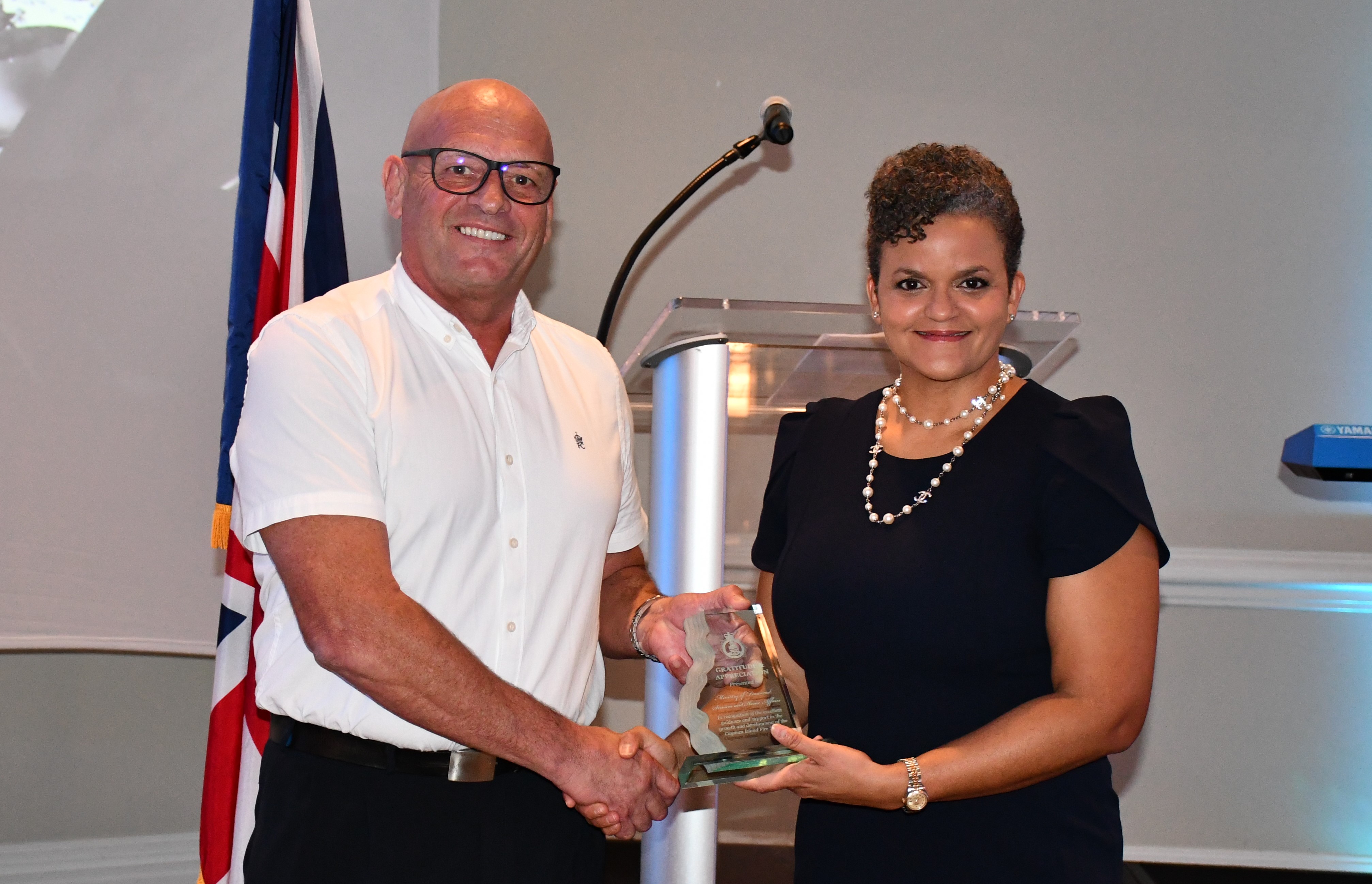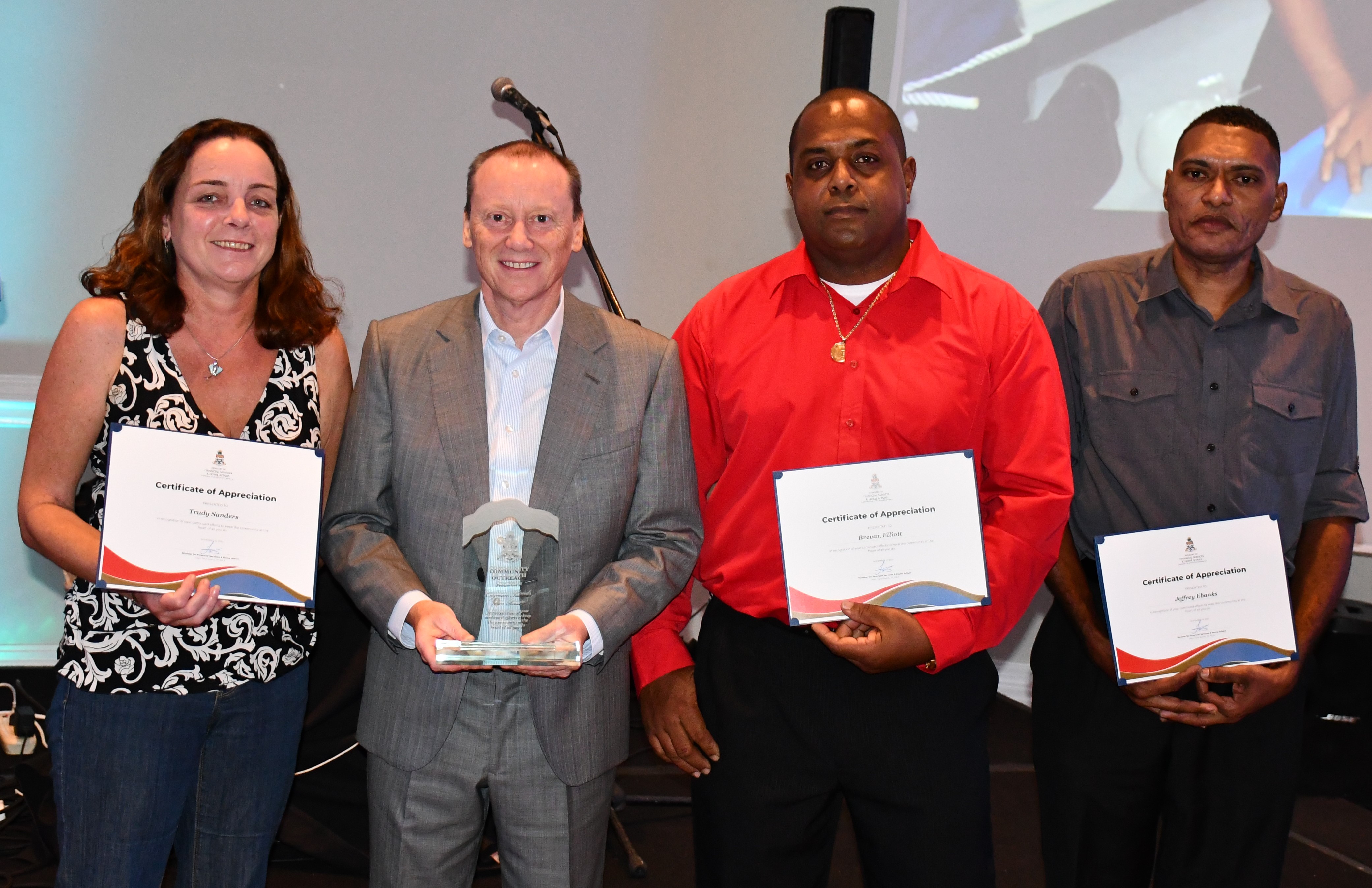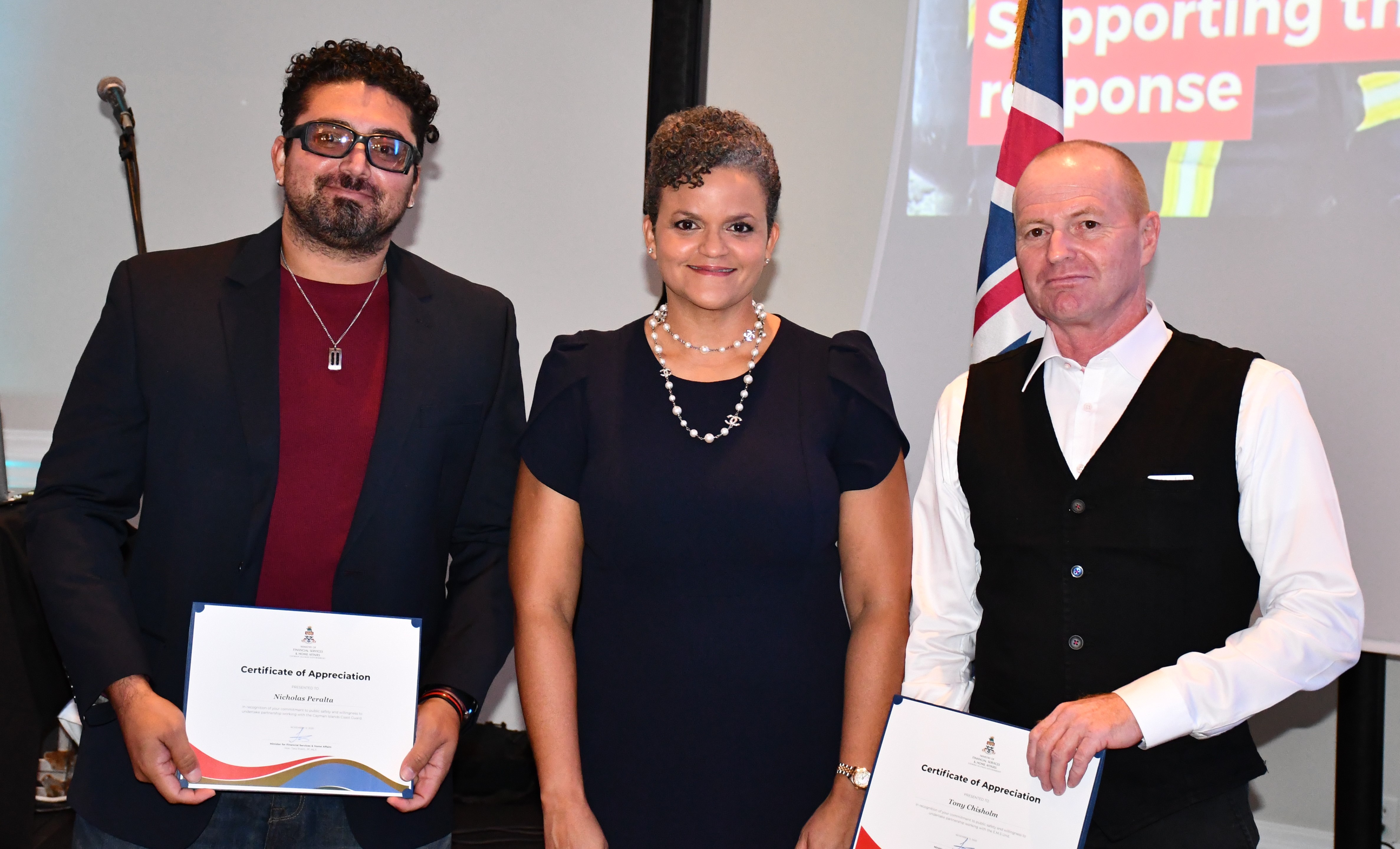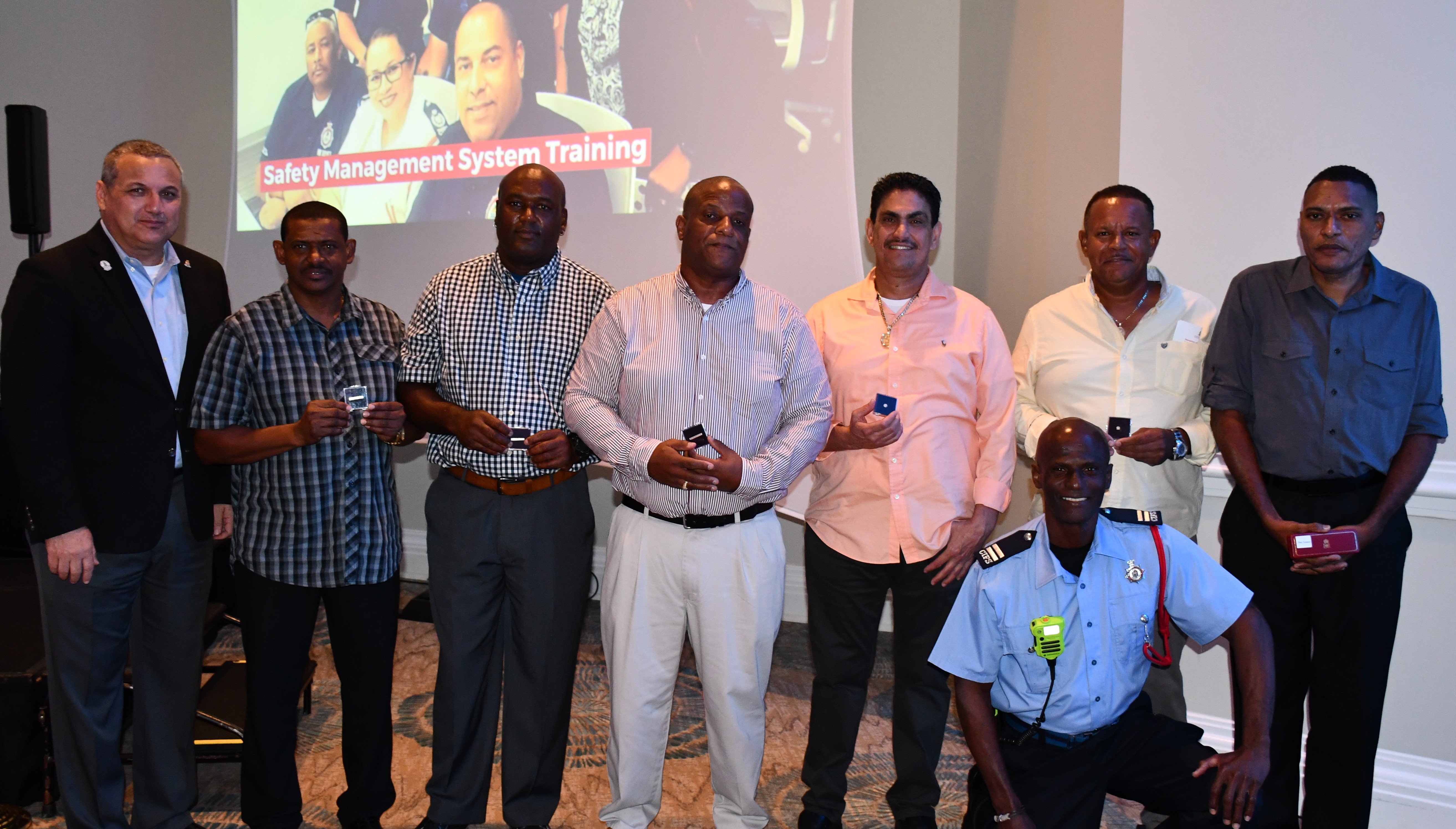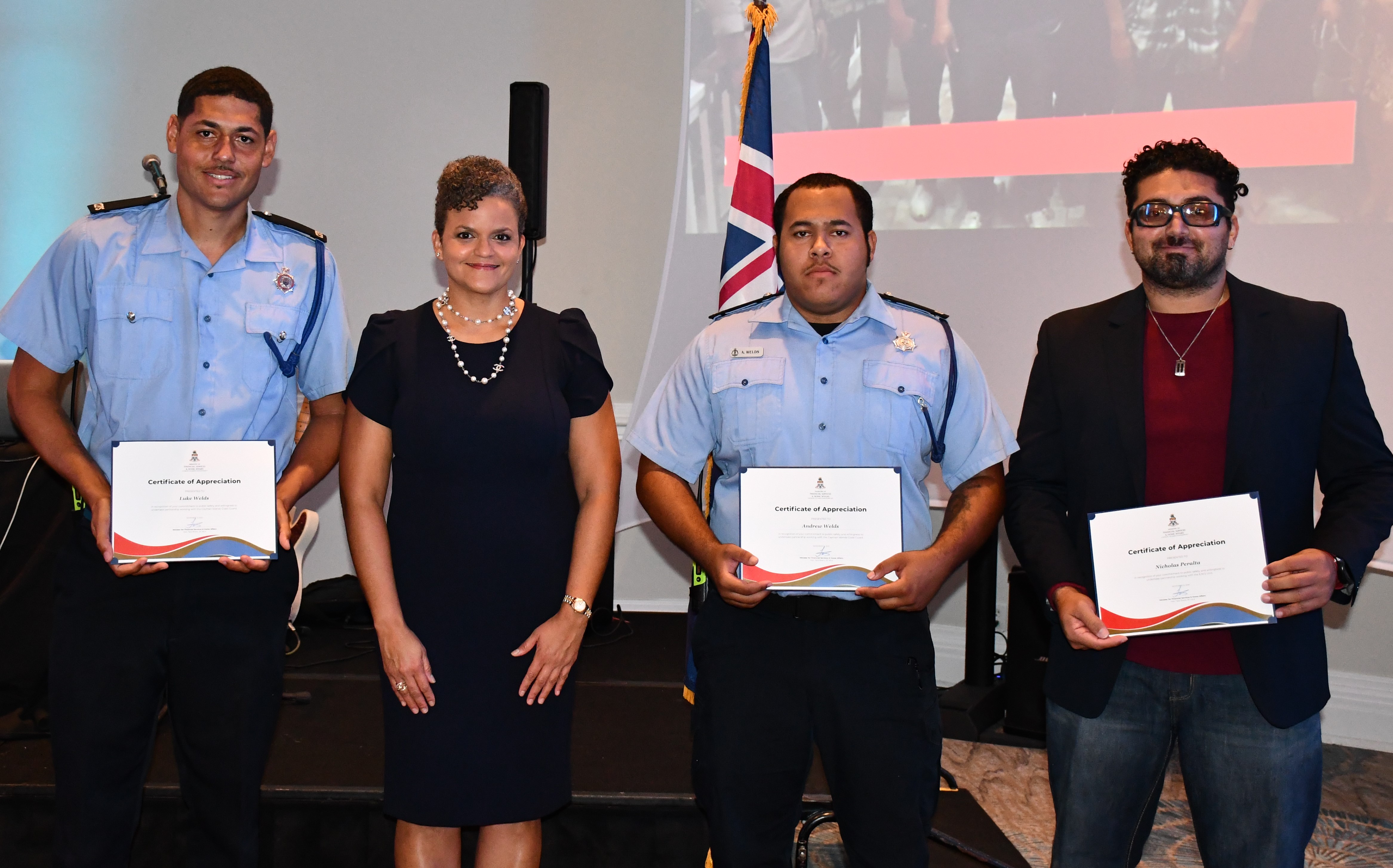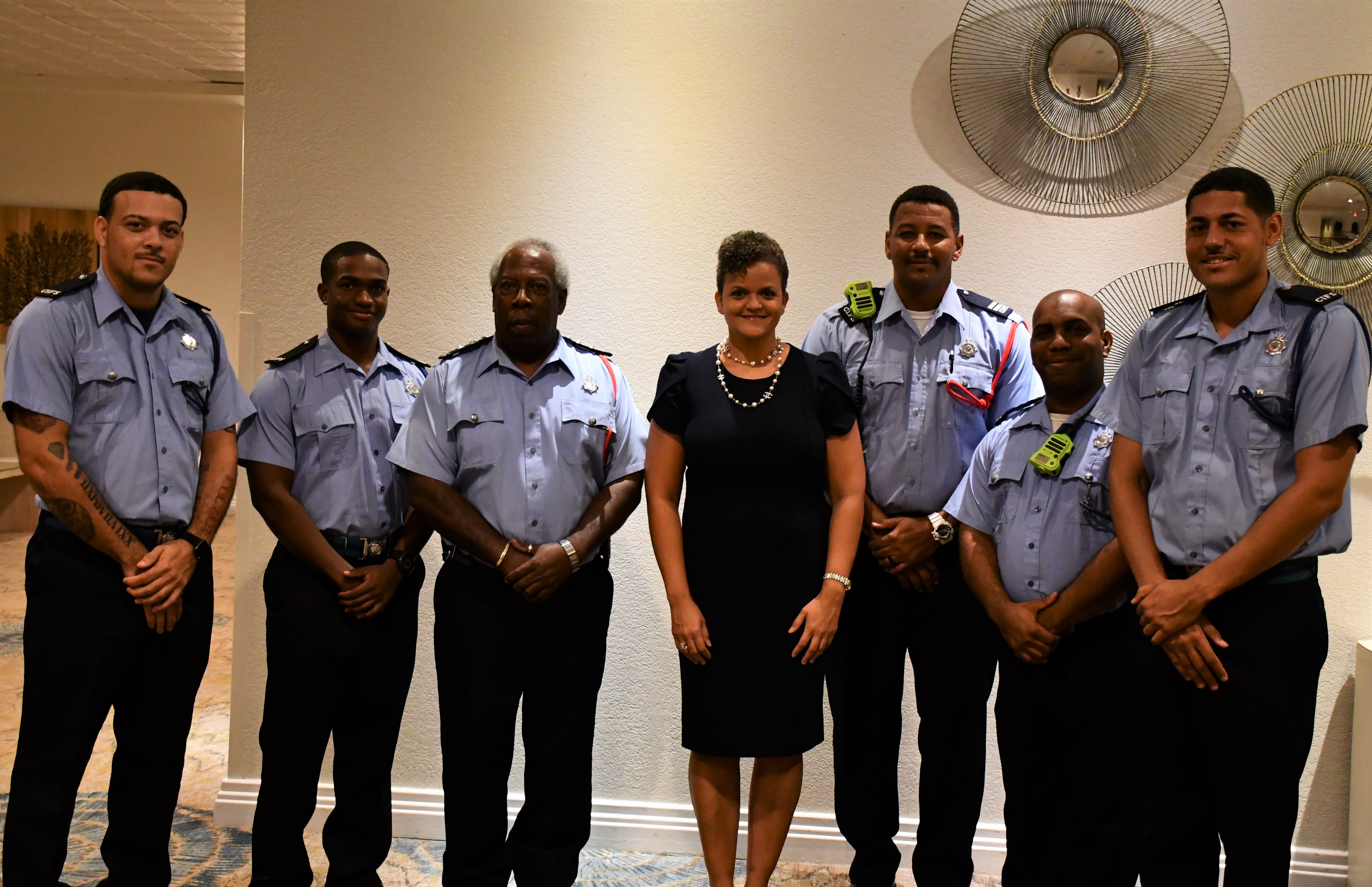 Following a year which has seen members of first response agencies continuously tested to extraordinarily levels, fire officers from the Cayman Islands Fire Service (CIFS) were recognised in an appreciation reception on Thursday, 12 November.
The evening's event was well attended by off-duty fire officers from across the three islands.
Also in attendance were His Excellency, the Governor, Martyn Roper, Deputy Governor and Head of the Civil Service, Franz Manderson, Minister for Home Affairs, Tara Rivers and members of partner first response agencies including Police Commissioner, Derek Byrne, Prison Director, Steven Barrett and Director of Department of Public Safety Communications, Julian Lewis.
The event highlighted the major achievements of the CIFS team and recognised several well-deserving officers for their performances within the service.

In her opening remarks, Minister Rivers paid tribute to the selfless efforts of the men and women on the frontline who, together with other first responders, formed a critical line of defense against COVID-19.
"As you have done thousands of times before, you demonstrated that in the face of a crisis you can be depended on to protect us from harm with caring and compassion regardless of race, ethnicity, social economic status or religious affiliation. As is your way, you did not stop to consider your own wellbeing, nor did you expect to receive thanks from those you served."
She also acknowledged the action that has been taken to enhance service delivery through the acquisition of new equipment and vehicles, as well as the efforts by officers to grow professionally.
She commended them saying, "There has been a tremendous amount of progress within the CIFS within a relatively short period of time and I think that everyone will agree with me that you have worked with Chief Walker and Deputy Chiefs Charlton, Elliott and Ebanks, to lay a solid foundation upon which you can build a world class Fire Service, with continued commitment and collaboration."
Chief Fire Officer, Paul Walker, QFSM, acknowledged that this year's achievements couldn't have been possible without a united team effort.
"The flexibility I have witnessed in 2020, the commitment to the job, a genuine willingness to support local communities, the dedication to go above and beyond, as well as the empathy and understanding for each other's safety and wellbeing has been inspiring."
"Whilst I always say it is our people that make a successful high performing organization it is much more than that. The support and investment we receive is essential for us to succeed. That support and investment takes many forms, from the families of our front-line staff who display patience and understanding to our incredible non-operational colleagues who work tirelessly to ensure we are trained, protected and equipped to deliver the best fire and rescue service we can. I applaud and thank you."
The evening concluded with the accolade presentation. In recognition of the strong partnership that exists between the Ministry of Financial Services and Home Affairs and CIFS, the Guidance and Stewardship Award was presented to the Ministry by the Chief Fire Officer to give thanks for their continued support.
Seven officers received their Long Service Awards from the Deputy Governor. In recognition for either their 18-, 25- or 30-year service with CIFS awards were presented to Alfred Connor (31 years), Curtis Connor (35 years), Jeffrey Ebanks (23 years), Matthew Ebanks (31 years), Trent Jackson (35 years), Larry Seymour (35 years), and Kirk Watson (30 years).
The Professionalism and Dedication Award was presented to Deputy Chief Fire Officer, Roy Charlton on behalf of the entire Domestic team for the diligence and effectiveness in extinguishing the landfill fires earlier in the year.
The Community Outreach Award went to Deputy Chief Fire Officer, Brevan Elliott, Firefighter, Jeffrey Ebanks, Firefighter, Ameilia Gillispie, Pump Engineer, Carson McField and Finance Manager, Trudy Sanders for their efforts in starting the ongoing CIFS food drive with Meals-on-Wheels.
Firefighters Luke Welds, Daniel Bernard, Jeffrey Ebanks, Christopher Webb, Tony Chisholm as well as Pump Engineers Nicholas Peralta, Andrew Welds, Vincent McElroy and Fire Safety Inspector Darnley Scott received the Partnership Working Certificate for their successful close working with colleagues from the Health Services Authority, Coast Guard and Department for Public Safety Communications.
Finally, the CIFS Training Unit, Acting Training and Safety Manager, John Christian and his associate training instructors' efforts were recognised with the Excellence in Training certificate.
---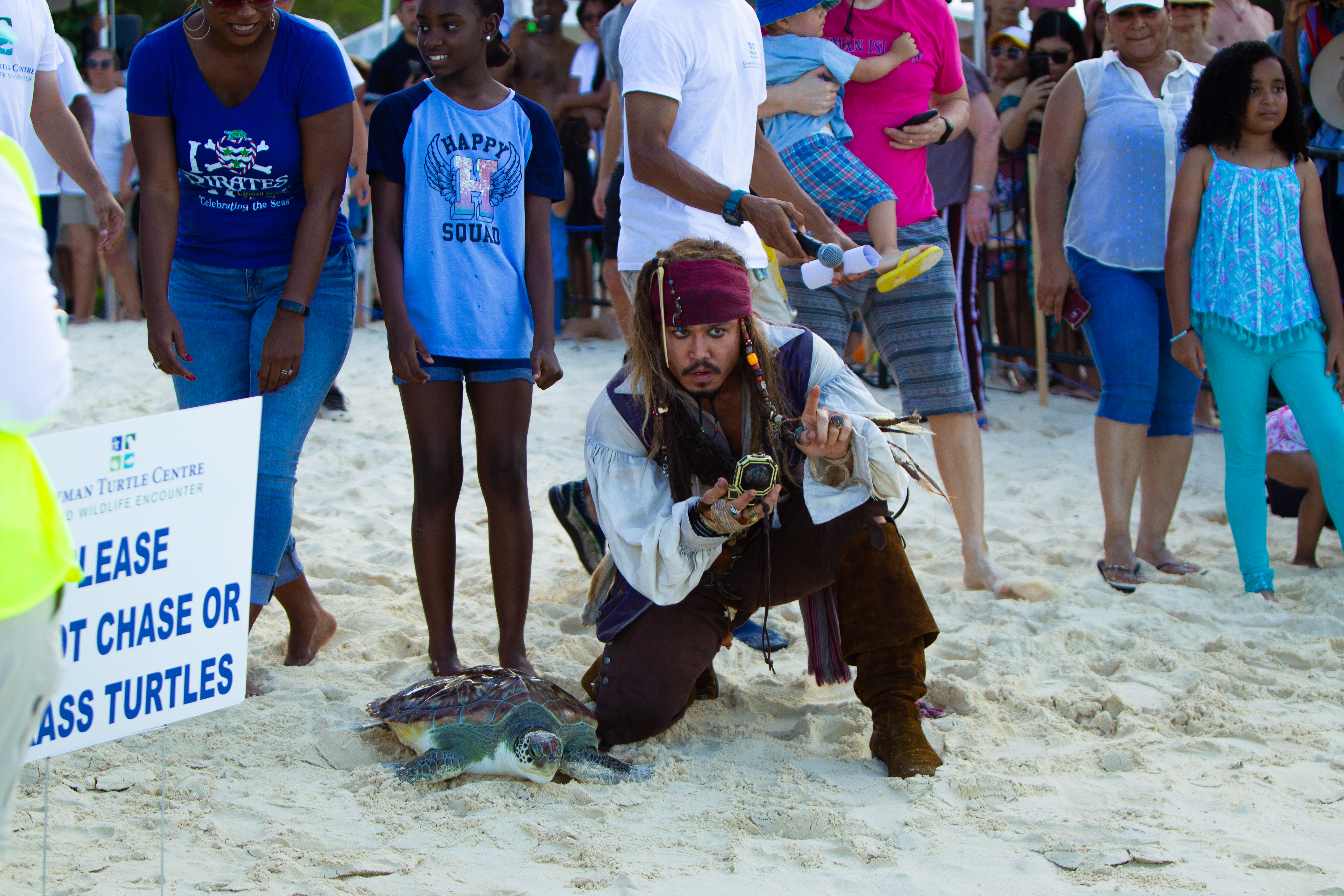 Cayman Turtle Conservation and Education Centre, in partnership with the Cayman Islands Pirates Week Festival, is pleased to announce their annual Pirates Week Turtle Release will take place on Friday, November 20th at 10 am, as a virtual event.
Pirates Week turtle releases are part of a long-standing historical tradition, popular with residents and visitors alike.

"Due to COVID-19 restrictions on public gatherings, we decided to broadcast this year's Pirates Week turtle release live on our Facebook page so audiences around the world, as well as locally, can share in this special occasion with us." Mrs Renee Howell, Chief Marketing and Merchandising Officer, Cayman Turtle Centre, said.
"It is such a long-running tradition that many parents, who enjoyed this event as children, will surely want to show their own kids what all the fun is about!"
The Centre has released more than 33,000 turtles into the wild since the programme began in the 1980s and despite COVID-19, this year is set to become another successful chapter in the Centre's story of how they brought back the Green sea turtle from the brink of extinction in the Cayman Islands. Not only have the number of turtle nests risen significantly since the Department of Environment began their annual turtle nest surveys in 1999 but a recent study, sponsored by the UK's Darwin Plus Initiative, called "How many came home" showed conclusively by analyzing turtles' genetic profiles, that nine out of ten of Cayman's Green nesting turtles were related to those that had been released from the Centre in previous years.
The release will be streamed live on the 'Cayman Turtle Centre: Island Wildlife Encounter' Facebook page, as well as the Facebook pages of 'Cayman Islands Pirates Week Festival', and the Cayman Compass.
Members of the public are invited to get involved by sponsoring a turtle to be released. The sponsorship packages include the opportunity to attend the release in person and name one of the turtles that will be released during the event. Your sponsorship helps support Cayman Turtle Centre's conservation effort and the release of these Green sea turtles into their new life in the wild. For more information on sponsoring a turtle, contact sponsorship@caymanturtles.ky.
One lucky Primary school group, from Island Montessori, have been invited to attend the event in person after winning a Primary schools' turtle naming competition this year with their winning name, "Shelly the Island Turtle."
"It's important to get kids involved with conservation efforts while young to help them gain a wider understanding of the world around them and to help preserve the natural world for them in the years to come." Ms Shona McGill, Education Programmes Officer at Cayman Turtle Centre, said.
Cayman Turtle Centre will be continuing the Pirates Week fun this weekend with a Pirate Party and Family Fun Day at the Centre, on Saturday 21 November from 10 am to 4 pm. Adults and children alike can take part in pirate-themed game and activities while enjoying full access to all the Centre's exhibits. Children under 12 in Pirate costume will receive free admission to the Centre during this event.
---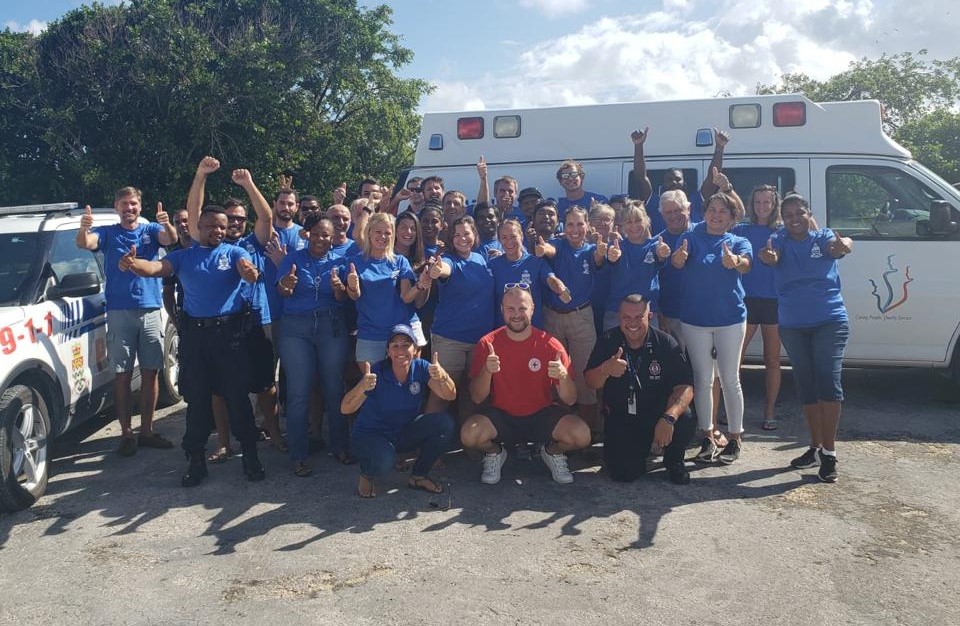 Following a particularly busy year for the National Emergency Operations Centre, Little Cayman has become the ninth community to receive a Community Emergency Response Team (CERT) training.
The latest CERT is made up of 30 determined individuals including volunteers from the Little Cayman divisions of the Royal Cayman Islands Police Service (RCIPS), Health Services Authority (HSA), Public Works Department (PWD), Cayman Islands Fire Service (CIFS) and the Mosquito Research and Control Unit (MRCU).

A CERT has now been trained on every island. "The many challenges faced this year has reinforced the importance of fostering resilience at a grassroots level across all three islands. It is therefore extremely encouraging to see so many people, including many dedicated public servants, step forward and commit to supporting their communities through times of crisis," commented the Minister for Home Affairs, Hon. Tara Rivers, JP.
"Hazard Management Cayman Islands, in partnership with the Cayman Islands Red Cross (CIRC), has been steadfast in their efforts to create these community-based response teams, and equip them with the necessary knowledge and skills to enable them to deal with various disasters. With trained CERT teams now established on every island, our national response has been strengthened significantly; and communities are better placed to take swift and appropriate action as required."

The intensive training, provided by HMCI in partnership with the CIRC and the CIFS, covered topics on search and rescue, vulnerability and capacity assessment, damage assessment and fire safety.
Addressing the latest CERT at their graduation ceremony on Thursday, 29 October, HMCI Director, Danielle Coleman described the group as possibly the most enthusiastic and determined team that HMCI and its partners had ever trained.
"It makes me feel very hopeful and it is truly inspiring that we have such a committed and civic-minded group of people who stand ready to support the Little Cayman community."
She added, "The nature of Little Cayman and its small population requires an added degree of self-sufficiency and this CERT makes us stronger as a community and, along with the Cayman Brac CERT, it fills an identified gap in our response mechanism."
She continued, "There will likely come a time when you will be called upon to reach out in support to the wider Little Cayman community: to your neighbours, your friends, your elderly and most vulnerable, and with these new skills you are in a better position to provide that support and assistance. We hope that day will not come, but if it does, we know Little Cayman is better prepared."
Earlier this year during the height of the national COVID-19 response, CERTs from Grand Cayman and Cayman Brac were deployed to assist with distributing vital public safety information and face masks.

Following the passing of Tropical Storms Delta and Eta, CERTs (most recently including the Little Cayman team) were also deployed to conduct damage assessments which were then fed back to the NEOC as well as complete wellness checks on the most vulnerable.
Little Cayman joins a further eight communities who have trained CERTs. These are Belford Estates, Savannah Meadows, North Side, North Sound Garden Community, West Bay, Windsor Park, Cayman Brac and Prospect.

CERT training is free and open to all residents aged 16 and over. Members of the public wishing to complete CERT training or to establish a team in their area are encouraged to contact Teresita DaSilva at 945-4624 for further information.
---
The Department of Environmental Health (DEH) commenced its annual bulk waste removal activity yesterday Monday, 16 November 2020 and will conclude on Monday, 21 December 2020.
DEH wishes to remind the community that the following items are not considered bulk waste and will not be collected as part of this campaign:
Derelict Vehicles – Arrangements for collection of these must be made separately and collected according to the law. The cost to have a derelict vehicle removed is CI$75 and DEH can be contacted separately to make arrangement for collection.
Construction and Demolition Debris – DEH does not have the equipment to pick up and load these materials from the roadside therefore these will not be collected during the bulk waste removal activity.
Bulk waste refers to large items such as old furniture, household appliances and vegetative waste that are not collected as part of the DEH's weekly residential pick-up services.

In order that DEH collects bulk waste in the most efficient manner residents must place bulk waste on the kerbside during the dates specified.
Not all waste can be put in the same truck, therefore DEH requests that metals and vegetative waste are separated before collections. Metal waste includes items such as old appliances, metal furniture and metal roofing while vegetative waste includes plant trimmings and tree branches.
Grand Cayman:
• East End/ Northside…………………………………. November 16 – 21
• Bodden Town ………………………………………… November 23 – December 5
• George Town ……………………………………….… December 7-12
• West Bay ………………………………………………. December 14-19
Cayman Brac and Little Cayman:
• Cayman Brac East……………………………………. December 9-10
• Cayman Brac West…………………………………… December 16-17
• Cayman Brac South………………………………….. December 18
• Little Cayman…………………………………………. December 22
"DEH work to provide these collections alongside normal operations so we ask that bulk waste items are not put out after scheduled dates as this could affect regular collections. We are happy to provide this annual service to the community and appreciate their efforts to comply with the collection measures for the ease and safety of our crew," said Mr Michael Haworth – Assistant Director, Solid Waste.
For additional information about DEH bulk waste removal, please visit our website at www.deh.gov.ky. Queries or concerns may also be directed to DEH Solid Waste Unit (Grand Cayman) by telephone on 949-8793, or 948-2321 for persons located in Cayman Brac and Little Cayman.
---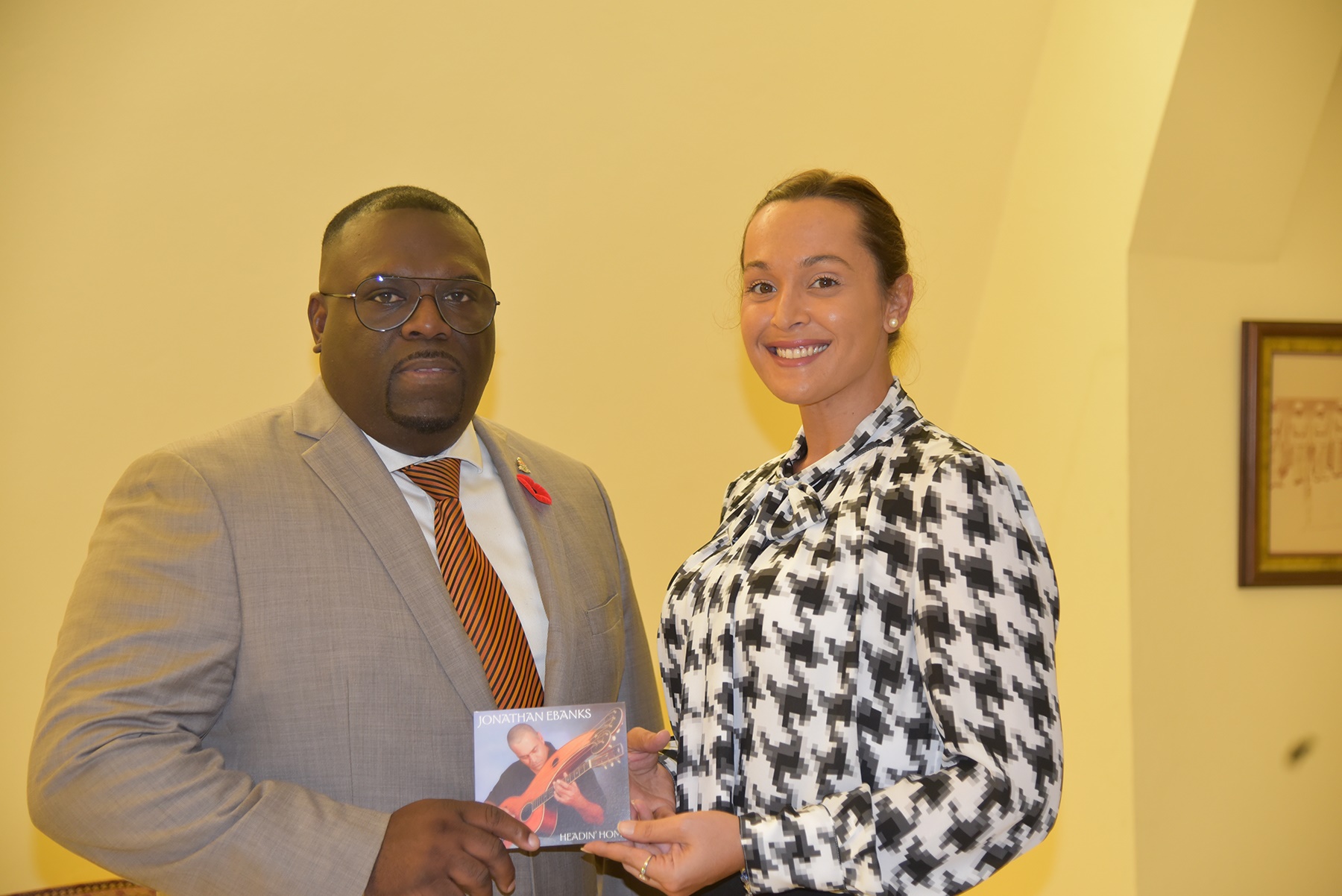 The Ministry of Culture is dedicated to the promotion of local culture and heritage by providing support to creative work including music, film, dance and other dramatic arts, fostering young and upcoming artists, reinforcing opportunities for children's arts and cultural experiences, providing support to arts and culture activities in the community and ensuring that the culture of the Cayman Islands is sustainable.
"Culture and the arts enrich our lives and at the same time are strong driving forces in revitalizing society at large playing a vital role in the quality of life," said Ms Nellie Pouchie, Acting Chief Officer – Ministry of Health, Environment, Culture and Housing.
In 2018 the Ministry provided a grant to the family of late local musician, Mr Jonathan Ebanks; musical talent, fondly known as Jon.
At that time of his passing Jon was preparing his latest works, Headin' Home, a tribute to his journey and synthesis of reflections, capturing the central themes most important in his life's travels. "His music falls into a melodic mixed genre of Cayman Folk, Jazz and Blues," said Jon's widow, Mrs Cindy Ebanks.
After his passing, the Ministry of Culture signed a grant to allow the family to complete the production of the album in his honour.

"We consider ourselves blessed to be able to be a part of Jon's journey and to deliver a project that makes Cayman proud. His second and final album which was produced over the two years prior to his untimely passing on November 14, 2018, is a testimony to Jonathan's dedication to the mastery of steel strings and the acoustic guitar. His legacy in our cultural sphere should always be remembered and celebrated. Receiving this album was truly a memorable moment," said Hon Minister Dwayne Seymour, JP – Minister of Health, Environment, Culture and Housing.
Mrs Cindy explained that "The album construct was nudged on and teased out of Jon by his like-minded minstrel daughters, Jonelle, and Justine, and his son Jordan – his foremost fan, and of course by myself. I also led the family design team for the album cover which was finally produced early this year, after considerable effort on the part of producer and family friend, Gary Vandy, of GVAP Music, Florida."
Mr Vandy is a long-time producer and collaborator friend of Mr Ebanks. With that history and background, he was able to carry the works to completion.
The album entitled 'Headin' Home', is now available for sale from Pure Art art studio at a cost of $13. Proceeds will benefit the Clifton Hunter High School and Edna M. Moyle Primary School Music Depts.
The Ministry and the family of Mr Jonathan Ebanks also wish special thanks to the trusted few who understood Jon's commitment to a platinum standard. They have now carried forward his signature and applied his vision even though he left the works in their infancy.
"We wanted to publicly thank Paul Messina on horns, keys, and synthesizer, Mark Harris on bass, Quentin Robinson on percussion, Shane Allenger who recorded some of the tracks, and of course to Minister of Culture, Hon. Dwayne Seymour along with the Ministry who provided support at a critical time and helped bring his dream to fruition" added Mrs Cindy Ebanks, grant recipient.
---