Leadership Cayman (LC) welcomed 25 participants for its 2021 programme at its traditional Orientation Dinner held at Ristorante Pappagallo on January 20, 2021. The candidates were selected from a field of 48 applicants based on their roles in the community, business and professional involvement, skills, and assets, along with their passion for knowledge.
The Leadership Cayman programme is an intensive six-month course, introduced by the Cayman Islands Chamber of Commerce, that enables class members to develop new skills and learn vital information about the Cayman Islands' community and business sector. The class attend bi-weekly seminars on a range of different topics, learning from expert and local leaders, government officials and keynote speakers.
Chamber President-Elect, Mike Gibbs welcomed the class of 2021 and shared his experience as a graduate of the programme. LC Programme Chair, Nicholas McLean, outlined what the class members should expect over the next six-months.
Eight Planning Committee members who are alumni were also in attendance to show their support for the new class.
The successful candidates for 2021 are: Patricia McTaggart Duval Uncle Bills Home Improvement Centre, Jody Ebanks RBC Royal Bank (Cayman) Limited., Emma-Jane Fisher Sunset House, Micah Coleman Cayman Islands Government, Steve Bull EY Cayman Ltd., Kate Bosman Deloitte, Melissa Whorms Cayman Islands Government, Kimberley Dangerfield Clearly Cayman Dive Resorts, Roderick Pierson Dart, Diksha Sahni Baker Tilly (Cayman) Ltd., Marco Miranda Cayman Islands Government, Wilberlee Range Cayman Islands Government, Jennifer Williams CTMH Doctors Hospital, James Robinson Jr. EY Cayman Ltd., Rolna DaCosta Cayman Islands Government, Kelsey Halley Deloitte, Kate Ryley Property Cayman, Amy Hubble Helix Advisory Services Ltd., Deirdre Billes Acme Privae Fund/Billes Family Office, Caitlin Mathiassen Kensington Management Group, Daniel DeFinis Davenport Development, Nicole Ebanks Department of Education Services, Jodie Hooper Broadhurst LLC, Jennifer Leach-Tippetts CAYS Foundation, and Nelson Dilbert (Cayman Spirits Co.).
Special thanks to our major sponsors: Cox Lumber, RBC Royal Bank (Cayman) Limited, and Wheaton Precious Metals.
---
The Department of Environmental Health (DEH) reports a small surface fire at the landfill around 4.00 pm on Monday, 18 January 2021.
The Cayman Islands Fire Service (CIFS) worked alongside colleagues from DEH and the fire is now extinguished.
DEH crews will continue to monitor the area throughout the night and notify CIFS immediately if any smoke is observed..
On initial inspection, the incident appears to have been caused when a vehicle drove over a mobile phone battery or similar that had been discarded in the regular waste while compacting an area of the landfill site, causing the battery to burst and ignite.
"Any kind of battery, including those found in mobile phones, pose an increased risk of combustion and should be separated from other waste materials when disposing. For this reason, the George Town Landfill has a designated area for batteries which we encourage the public to use," says DEH Director, Richard Simms.
---
The Needs Assessment Unit (NAU) is extending its pilot programme "NAU is in Our District," which rolled out on 11 and 18 December 2020.
Designed to improve access to NAU services by persons in district communities, the initiative will visit the districts for the next six months as planned. Persons who need assistance with their NAU application, or any other NAU-type issue, are advised to attend and bring supporting documentation along with them.
East End Civic Centre

9 am – 2 pm

Friday, 8 January 2021
Friday, 5 February 2021
Friday,5 March 2021
Friday, 9 April 2021
Friday, 7 May 2021
Friday, 4 June 2021
North Side Public Library

10 am – 1 pm

Friday, 15 January 2021
Friday, 12 February 2021
Friday, 12 March 2021
Friday, 16 April 2021
Friday, 14 May 2021
Friday, 11 June 2021
Bodden Town Public Library

10 am – 1 pm

Friday, 22 January 2021
Friday, 19 February 2021
Friday, 19 March 2021
Friday, 23 April 2021
Friday, 21 May 2021
Friday, 18 June 2021
West Bay Public Library

10 am – 1 pm

Friday, 29 January 2021
Friday, 26 February 2021
Friday, 26 March 2021
Friday, 30 April 2021
Friday, 28 May 2021
Friday, 25 June 2021
---
A national treasure that celebrates land-based flora and fauna of the Cayman Islands is itself being lauded in the latest stamp issue from the CI Postal Service.
The Queen Elizabeth II Botanic Park gets fittingly showcased in a truly impactful new stamp issue. This is the only issue for 2020 for the Postal Service, which generally puts out between three and six new stamp issues annually.
The new Botanic Park stamp issue is also unique in that it is a 12-stamp "definitive" issue "commemorating the beautiful scenery, wildlife and historic buildings seen at the Park." Definitive stamp issues, as opposed to commemorative issues highlighting events, are periodically issued by the Postal Service and, as such, are rarer issues.
The increased choices this time also extend to the denominations of the stamps being issued. The stamps are valued at 25¢, 50¢, 75¢, $1.00, $1.50, $1.60, $2, $4, $5, $10, $20. Additionally, there are three First Day Covers valued at $12.60, $14.90 and $22.30, as well as a $2 Souvenir Sheet.
The full issue not only prominently features the diversity that abounds in the park but also provides in the accompanying leaflet a rich source of information about the park, its history, its distinct features and its importance to the Cayman Islands.
Commented Acting Postmaster General, Mr. Lloyd McField, on the new issue: "COVID-19 posed challenges hitherto not faced in the Cayman Islands, in that there were very few significant celebratory national events that could be planned well enough in advance for commemorative stamp issues to take place.
"Therefore, we are glad we could plan and execute a definitive stamp issue around one of our greatest national treasures – the QEII Botanic Park. We are also particularly pleased to be drawing attention to, and reminding our people, about this local attraction that literally grows in beauty, depth and attractiveness each year."
The new stamps can be purchased at all post offices in the Cayman Islands that sell postal stamps as well as the Philatelic section located in the Seven Mile Post Office.
---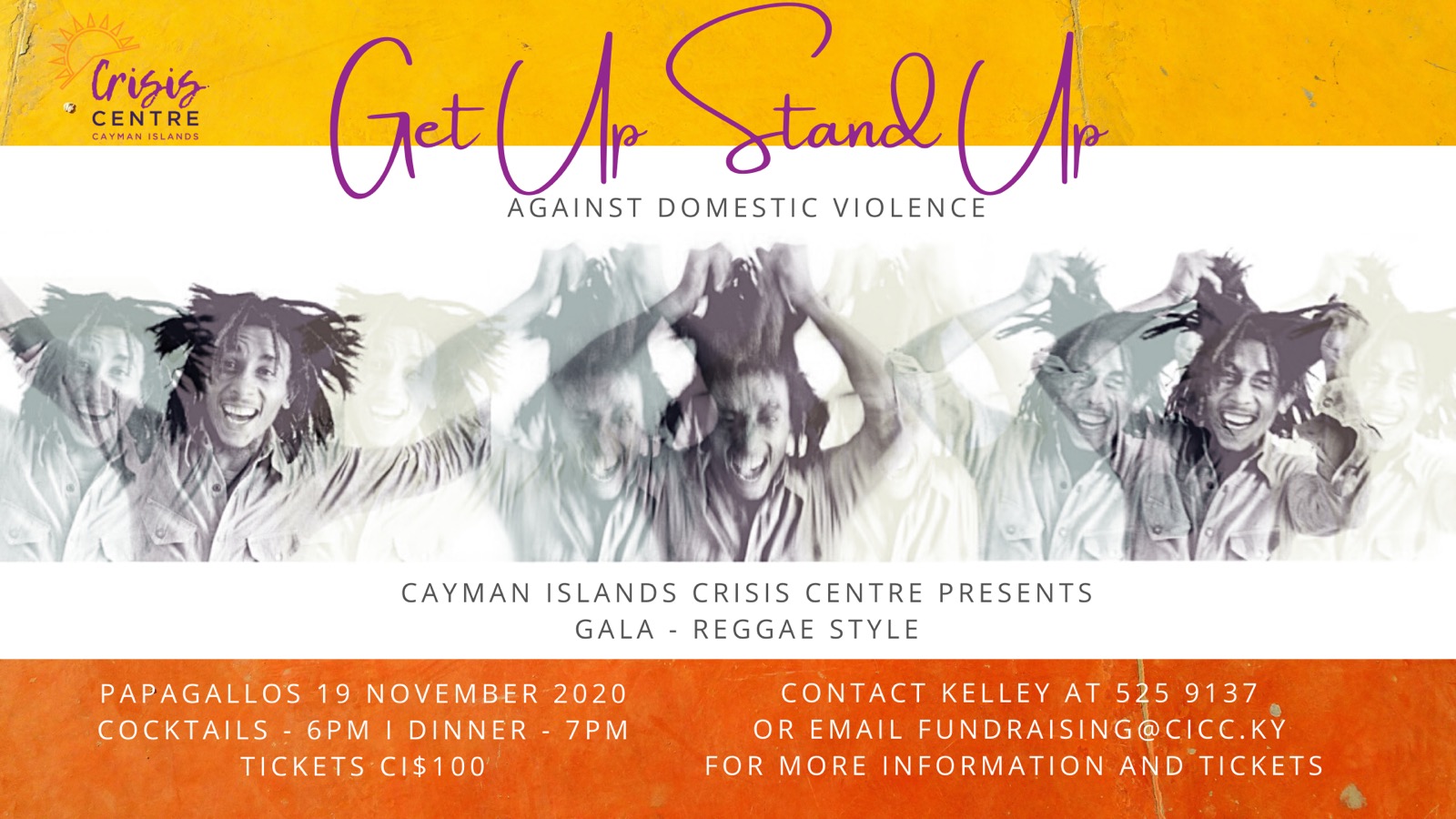 The Cayman Islands Crisis Centre will be hosting a Reggae styled gala Thursday, November 19 2020 at Pappagallos under the theme 'Get Up Stand Up (Against Domestic Violence)'. The evening includes a three-course menu with welcome cocktail and glass of wine with dinner.
The Crisis Centre is hosting this event to raise funds to support our efforts to provide safe housing for domestic violence victims and their children. This fundraiser is also a platform to help raise awareness of the services we provide to those effected by domestic violence.
The event will have a raffle, live auction, music and dancing. Cocktail hour starts at 6pm with dinner at 7pm.
"This fundraiser's proceeds will go towards our daily operations which allows us to continue providing valuable services to our clients," said Executive Director, Ania Milanowska. "We are excited to host this gala as it is our first one for us since the government restrictions have been lifted throughout this COVID crisis. Now more than ever we need to come together and continue to provide support for those in the local community."
Tickets to the gala are $100 each and tables of 10 can also be reserved. To purchase your tickets email fundraising@cicc.ky or call Kelley at 525-9137.
---
Industry is advised that the Virtual Asset Service Providers (VASP) regulatory framework is being commenced in two phases. To accomplish this phased approach, the following were published on Wednesday, 28 October to bring into force certain provisions of the Virtual Asset (Service Providers) Law, 2020 (VASP Law):
Virtual Asset (Service Providers) Law, 2020 (Commencement) Order, 2020; ?
Virtual Asset (Service Providers) Regulations, 2020; ?
Monetary Authority (Amendment) (No.2) Law, 2020 (Commencement) Order, 2020; ?
Securities Investment Business (Amendment) Law, 2020 (Commencement) Order, 2020; ?
Mutual Funds (Amendment) (No.2) Law, 2020 (Commencement) Order, 2020
Phase one, which begins 31 October 2020, will focus on anti-money laundering (AML) and countering the financing of terrorism (CFT) compliance, supervision and enforcement. Persons engaged in or wishing to engage in virtual asset services must be registered with CIMA under the VASP Law.

Persons engaged in or wishing to engage in virtual asset services currently holding a licence granted by CIMA under another regulatory law must notify CIMA under the VASP Law. Provisions of the VASP Law which relate to enforcement, penalties or offences will be commenced on 31 January 2021. Persons who have not registered or notified CIMA by the authority's application deadline, but who are engaging in virtual asset services on and after 31 January 2021 will be subject to penalties and other enforcement measures.
Registration/notification is via the VASP Application Form on CIMA's REEFS online platform. CIMA will publish a date by which applications have to be received in order to be considered prior to 31 January 2021.
Phase two, which is expected to begin in June 2021, will bring into force the remaining provisions of the VASP Law, including the licensing requirement for virtual asset custodians and trading platform operators, the sandbox licensing regime and other elements of the VASP Law.
The Virtual Asset (Service Providers) (Amendment) Bill, 2020, which will introduce provisions to better facilitate the phased commencement approach, was published on Thursday, 29 October and will be presented at the next sitting of the Legislative Assembly.
The Virtual Asset (Service Providers) Regulations, 2020 outlines the fee schedule and certain operational elements such as the VASP Application Form in Schedule 1.

The VASP framework allows Cayman to fulfil its commitments to the Caribbean Financial Action Task Force regarding compliance with global standards on AML/CFT and countering proliferation financing.
CIMA will issue a notice in the coming days which will provide additional information regarding the registration/notification requirements.
---
Relaunched Order of the Cayman Islands national honours system will be overseen by a council of five persons.
· The public have until 27 November to nominate persons whose contributions have enriched the lives of those in the community.
· The new system has also introduced caps on the number of persons who may be awarded membership in any given year.
The Council for the Order of the Cayman Islands invites the public to nominate persons who have made exemplary contributions to life in the Cayman Islands for membership in the society of honour known as the Order of the Cayman Islands.
At a press briefing today, Monday, 26 October 2020, Premier Hon. Alden McLaughlin, MBE, JP announced the relaunch of the order and introduced members of the Council.

Members of the Council are:
· Chief Justice, Hon. Anthony Smellie, QC, JP – Chairman,
· Mr. James Ryan, CBE, JP,
· Mr. Norman Bodden, OBE, JP,
· Mr. Malcolm Eden, and
· Ms Celene Crance.

The Premier, by virtue of that office, serves as Chancellor and Principal Companion of the Order and the Cabinet Secretary, Mr. Samuel Rose, Cert. Hon. JP, serves as Secretary to the Council.

The purpose of the Council is to vet and consider nominees for membership of the order in accordance with the National Honours and Awards Law, 2010 and the National Honours and Awards (Amendment) Law, 2018.
Annual quotas have also been established for each level of membership as follows:
· Companion- 2 persons
· Officer- 3 persons
· Member- 5 persons

"These types of awards are very important in a country. We have to honour those who are working hard to move us forward now, and inspire those to come to do the same," said the Premier.
He continued, "Above all else, it is essential that this new system enjoys the confidence of the public. Indeed, confidence is the lifeblood by which such a system is viewed as credible and accepted within the hearts and minds of those living within our community. I was therefore deeply gratified to know that each of these distinguished and highly respected individuals have agreed to serve as members of the Council for the Order."
Confirming the eligibility criteria for membership, Chief Justice and Chair of the Council, Hon. Anthony Smellie said, "Caymanians and permanent residents are eligible to be appointed as Ordinary members. Persons other than Caymanians or permanent residents are eligible to be appointed as Honorary Members. UK Citizens who live and work primarily in the United Kingdom or are resident in a foreign country are not eligible to be admitted to the Order."

He added, "Any person may submit a nomination. If you know someone who inspires you, please tell us about them."
The first investiture ceremony for the relaunched Order of the Cayman Islands will be presented on National Heroes Day in January 2021. The public is reminded that next year's National Heroes Day will focus on celebrating Cayman Islands' seafaring heritage and thus nomination forms for the Order of the Cayman Islands are separate and apart from those for National Heroes Day.
Nomination forms may be found at www.gov.ky/order-of-the-cayman-islands or from the Government Administration Building reception desk or via email request to nationalhonours@gov.ky and will be available from Tuesday, 27 October.
All forms must be fully completed in order to be considered.

Speaking at the press briefing, the Premier noted that the Government has agreed to leave the choice open to previous recipients of the Order of the Cayman Islands at the level of Commander, Officer and Member to keep their current awards or re-classify their individual awards and receive the appropriate new class in exchange. While no nomination is required for this, the re-classification will only begin after the first investiture ceremony under the new regime in January 2021.
---
Visitors and patients of the Cayman Islands Hospital were given a reminder to be hopeful by the Alex Panton Foundation's Youth Ambassador programme earlier this month as a part of the HSA's "Be Kind For Your Mind – Mental Health Through Service" initiative. Students from five local high schools and home school programmes proposed the idea to create a mural to encourage patients and visitors who may be experiencing mental health challenges. The six-foot mural displays several inspirational quotes to form the word "hope".
"We chose to highlight acts of service and the importance of community organisations to the mental health standards here in the Cayman Islands for our World Mental Health Day activities this year. The synchronicity of the Youth Ambassador Project with the HSA's goal to promote mental health awareness through service made partnership a very easy choice", said HSA Occupational Therapist and initiative coordinator Kenneth Figueira.

The students met after school for almost three weeks to complete the project under the guidance of Cayman International School teacher Mr. Bill Lamonte. The APF Youth Ambassadors are Isabela Watler, Amber Ebanks, Isaiah Smith-Bodden, Yolieddy Cis-Paredes, April Ebanks, Eldora Ch'ng, Monina Thompson, Soleil Parkinson, Finn Gray, Yulande Waugh, Geneve Magnan, Natalie Sims and Sadie Finch.
The mural will remain displayed throughout various locations at the Cayman Islands Hospital until being permanently displayed in the planned Adolescent Mental Health Hub. "I am truly inspired by the APF Youth Ambassadors for volunteering their time to create an emblem of hope for the visitors to our facility," said Mr. Figueira.
Persons experiencing mental health challenges are encouraged to call the Mental Health Helpline 1-800-534-MIND (6463) or contact the HSA Behavioural Health Department 244-2650. For more information on the Youth Ambassador Programme, email info@alexpantonfoundation.ky
---
Cayman Turtle Conservation and Education Centre is pleased to announce the close of a very successful nesting season, with a total of 433 nests laid by the females of the Centre's Breeding Pond.

"This is great news for the Centre's conservation programmes," Mr. Tim Adam, Chief Executive Officer, Cayman Turtle Centre, said. "We are proud to report that despite the challenges of the COVID-19 pandemic, we have still been able to release 1,361 hatchlings as well as 66 head-started Green sea turtles into the wild this year, significantly boosting the wild sea turtle population."

In addition, many more 'head-started' turtles are currently being raised at the Centre, under the expert care of the in-house veterinary team. They will be released when they are between one and two years old, an age when they have a better chance of survival to adulthood in the wild.
All the eggs laid at the Centre come from 231 mature female turtles in the Green's Breeding Pond, which is at the heart of all the Centre's turtle release programmes. It is these eggs, and resulting hatchlings, which are responsible for increasing the local wild turtle population. Wild nests have grown from the 23 nests counted during the Department of Environment's first survey in the 1999 season to over 500 in their survey this year to date. An independent scientific study has also shown conclusively that that nine out of ten wild Green sea turtles nesting on Cayman beaches are related to captive-bred and reared Green sea turtles released from the Centre in previous years.
The eggs laid at the Breeding Pond beach are collected and taken to the Centre's Hatchery, where, from the beginning of May, and allowing for the 60 days incubation period, visitors have the privilege of seeing the baby turtles hatch out of their eggs, and slowly climb up through to the top of a long column of sand in a special demonstration nest box equipped with a glass viewing window.

This year, the first female to make her way, after sunset, up onto the Turtle Centre's artificial beach at the edge of the Breeding Pond, made her nest on the 3rd of March, which is earlier than normal. The Green sea turtle breeding season usually begins in mid-April.

"The last nest laid on the 28th August marked the end of the 2020 turtle nesting season" Dr. Walter Mustin, Chief Research & Conservation Officer, Cayman Turtle Centre, said. "Our guests will again have the unique opportunity to witness the eggs, demonstration nests, and hatchlings when nesting resumes from April 2021 onwards."
Although the spectacle of the hatchlings making their way up through the sand is over until next season, the park has plenty of other animals to see and encounter, from the turtles in the Breeding Pond and Touch Tanks, as well as Smiley the crocodile, the nurse sharks, barracudas and tarpon of Predator Reef, butterflies in the Butterfly Garden, and the colourful birds of the Caribbean Free-Flight Aviary.

In addition to the release of head-started turtles, the Centre has expanded its release programme in recent years to include "jump-started" releases of two-day-old hatchlings directly into clumps of floating sargassum seaweed out at sea, with the help of local dive operator, Cayman Turtle Divers. This helps the hatchlings avoid the predators and dangers associated with entering the water from the beach, and the shallow water of the shoreline. The baby turtles naturally look to make their home in these floating clumps of seaweed for the first year or so of their life, because they offer the turtles protection and a source of food.
There have also been three nest translocations this year. These were where eggs, near to their hatch date, were carefully transplanted by the Turtle Centre's veterinary team, into sandy nests along Seven Mile Beach so they may hatch in a natural environment and make their own way into the Caribbean Sea.
---
Head of the Governor's Office, Matthew Forbes OBE, his wife Lydia and son Will, will leave the Cayman Islands on 28 August, at the end of a 4 year tour of duty on our Islands. Matthew will be returning to London on a home posting.
During his time as the Head of the Governor's Office Matthew has worked closely with a wide range of Cayman Islands Government officials and other stakeholders to help deliver significant outcomes, which have benefitted everyone on our Islands.
Matthew played an instrumental role supporting Cayman in securing two helicopters for the RCIPS Air Operations Unit, including the negotiation of an MOU with the UK for the first helicopter, for which the UK contributed 25% of the funds. The helicopters have since been used both on Island in law enforcement exercises but have also been deployed overseas following hurricanes Irma and Maria in 2017 and last year to Abaco following Hurricane Dorian. Matthew played a key role behind the scenes in these deployments.
Matthew has worked closely with HMCI on Disaster Management issues throughout his time on Island and deployed to the British Virgin Islands with the RCIPS to assist the Governor there after Hurricane Irma in 2017. Matthew studied part-time for a MSC in Risk Crisis and Disaster Management whilst in Cayman, giving him highly valuable expertise in this area.
Matthew was one of the driving forces behind the creation of the Cayman Islands Regiment, working closely with the Ministry of Defence in London and the Commander of the Regiment Lt Col Watson, to make fast progress after the visit by the then Minister for the Armed Forces, Mark Lancaster, last October. Last weekend saw 51 reservists and 5 Officers pass out at the Truman Bodden Stadium. It was a major achievement to get this far during a global pandemic, and much of that was down to Matthew's organisational abilities…. Read More
---