Cayman Connection to host virtual Christmas event to support Caymanians overseas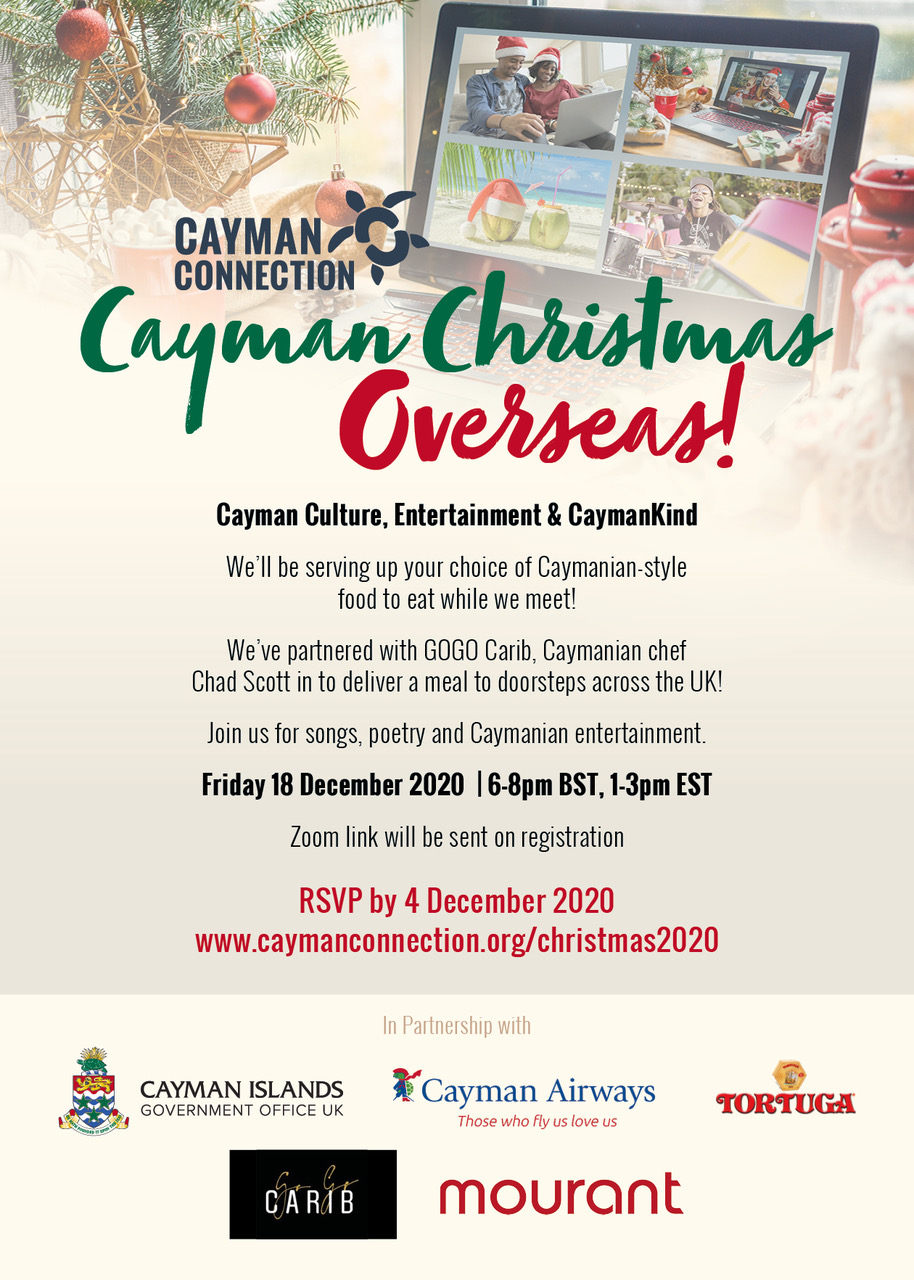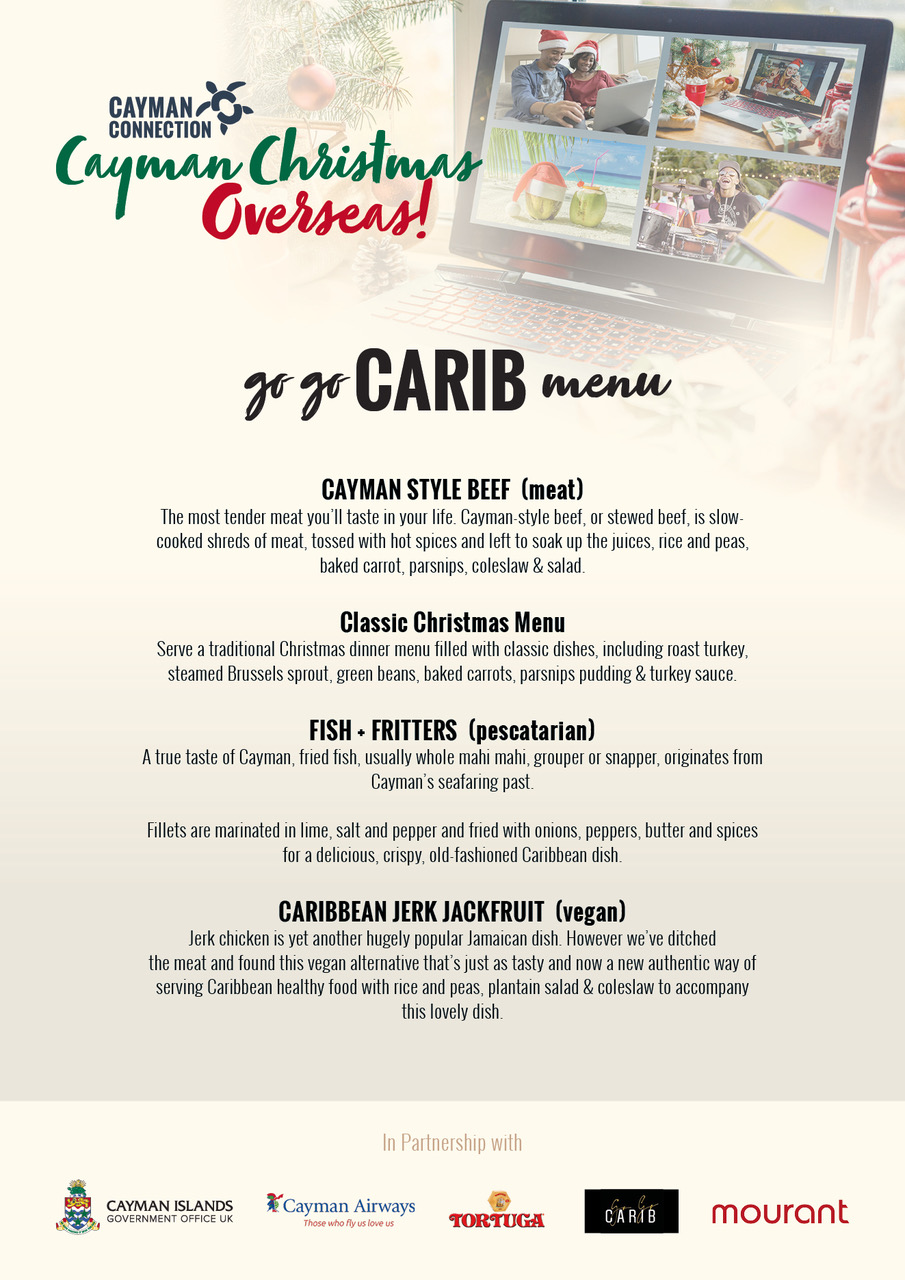 Cayman Connection, supported by the Cayman Islands Government Office in the UK (CIGOUK) and the Friends of Cayman group, is hosting a series of virtual Christmas events for Caymanians overseas this December.
The main event is scheduled to be a virtual Christmas Caymanian culture gathering on Friday 18 December, including a partnership with Caymanian Chef Chad Scott, from GogoCarib, who will be making traditional Caymanian dishes delivered as holiday meals across the UK. And for dessert, rum cakes will accompany these holiday meals, thanks to Tortuga Rum Cakes which has also joined this special effort.
The event, sponsored by offshore law firm Mourant, brings together Caymanians who are staying overseas for Christmas and those at home in Cayman, connecting Caymanians across the Atlantic. The event will start with Christmas performances by Caymanians in London and Manchester, spoken word poetry by a student in Liverpool, Cayman Christmas storytelling with Rita Estevanovich and a performance by steel pan performer Olujimi "Jimmeh" La Pierre in Cayman, to bring a slice of home to those overseas. Hosted by Jevaughnie Ebanks, entertainment will be followed by Christmas games and virtual social engagement to bring some comfort to those far from home.
Chef Chad Scott said "It was perfect timing to be approached by Cayman Connection, as I am relaunching my catering company GogoCarib and I am very happy to serve up food to Caymanians overseas at Christmas time. I am honoured to be a part of this network and event and pleased to be able to share my food and new brand. I am grateful for the promotion and support from Cayman Connection."
André Ebanks, commented "The holiday season in the UK and Europe will certainly be different this year. But that does not mean that it cannot be made to feel as warm, caring, and festive as possible. In fact, current circumstances provide even more reason to do so. So with the holiday season swiftly approaching, CIGOUK relished the opportunity to think creatively with Cayman Connection and the Friends of Cayman group to bring Caymanians staying in the UK and Europe for the holiday season a tasteful and touching slice of home; while we all look forward to a promising new year."
Hector Robinson QC, Partner at Mourant, said: "We're really pleased to be able to support this event and Cayman Connection. This year has been particularly challenging for everyone, especially those who have been kept apart from loved ones. We're so glad we can help play a part in providing some joyful Cayman spirit for those who will be so far away from home for the Holidays. Clearly, this festive season will be different to what is normal for many families, but we're hoping events like this will still be able to bring everyone together for some good cheer."
Caymanians around the world can join the virtual event by visiting www.caymanconnection.org/christmas2020 or can email hello@caymanconnection.org for more information. Christmas event meals will be for UK guests only and free for the first 30 UK-based Cayman Connection members to RSVP. Extra and non-member meals in the UK can be purchased for £25 per person. RSVP by 04 December 2020.
---