Chamber of Commerce launches Mentoring Cayman 2021 with opening reception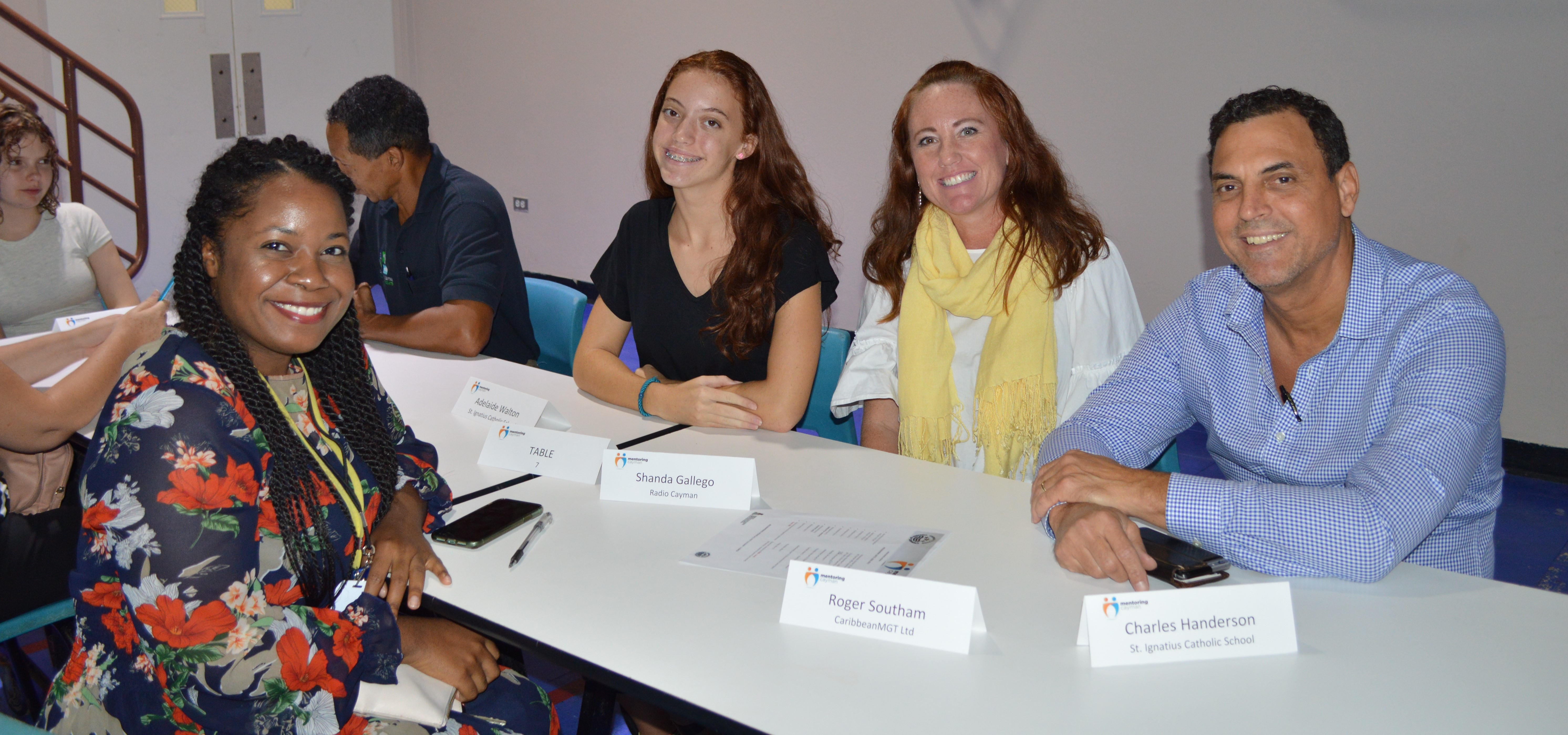 Mentors and this year's Mentoring Cayman 2021 Launch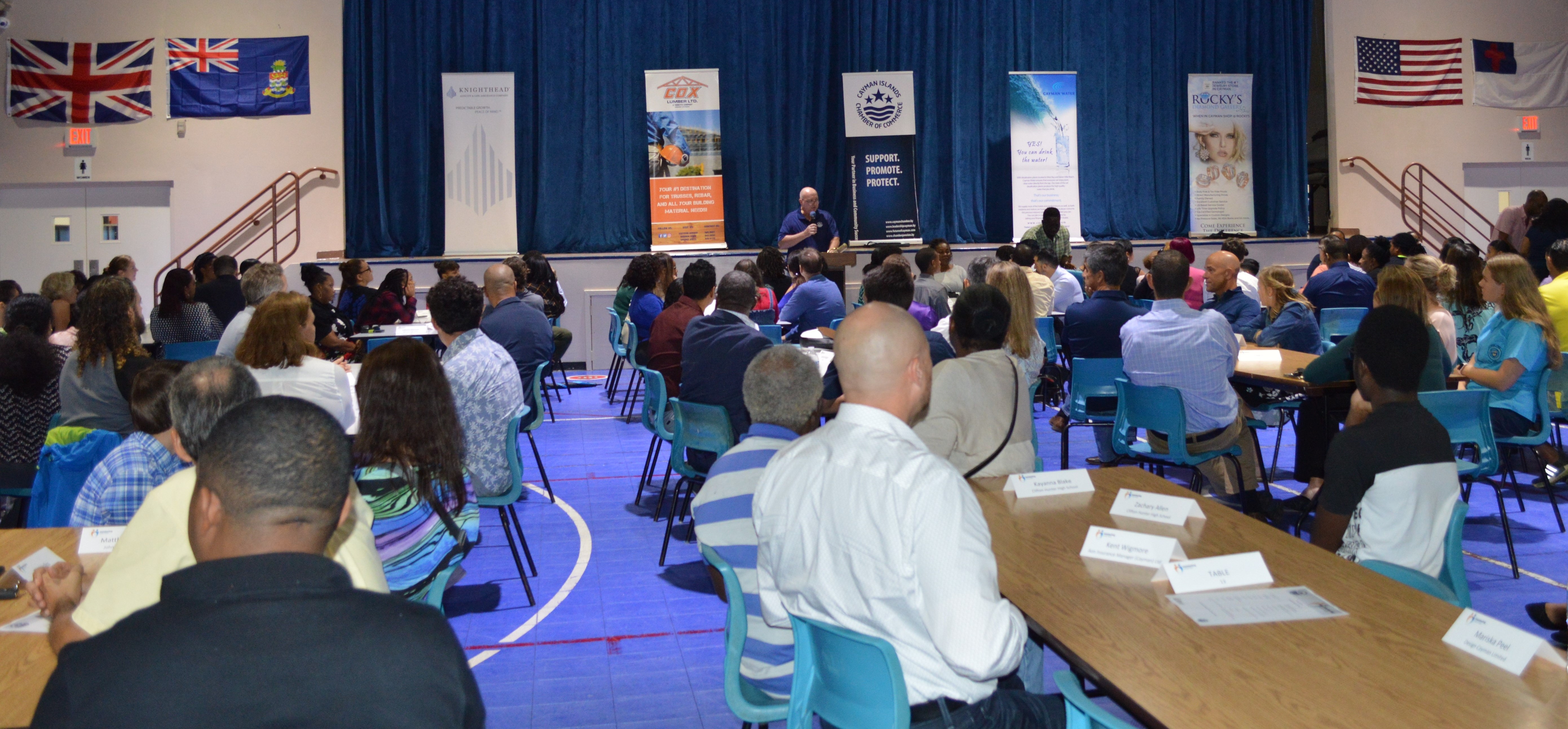 Chamber President-Elect Mike Gibbs, presents a the Mentoring Cayman 2021 Launch

Cayman Islands Chamber of Commerce, in partnership with the Ministry of Education, Youth, Sports, Agriculture & Lands, recently celebrated the opening reception of the 2021 Mentoring Cayman programme with over 150 students, parents, mentors, sponsors, and school organisers attending the event. The six-month programme pairs top-achieving public and private sector high school students with mentors from Chamber member businesses and senior public servants.
"I am pleased to report that there are 65 mentor and student matchups this year, a record for the programme," announced Chamber President-Elect Mike Gibbs in his welcome address. "All mentors have completed an orientation session, Darkness to Light training and submitted a police clearance. Mentors have been matched with students based on mutual areas of interest."
65 high-achieving students, nominated by their Principals, and their parents were introduced to their mentors for the first time during the reception. Participating schools include Clifton Hunter High School, John Gray High School, Cayman Prep & High School, St Ignatius Catholic School, Triple C School, Cayman International School and Wesleyan Christian Academy.
Gibbs encouraged mentors and students to be kind, patient and respectful as they get to know one another. "Focus on common interests and establish a good rapport," he told them. "Don't let your differences prevent you from asking questions." He urged parents and guardians to remain involved in the mentoring process by checking in with their son/daughter for regular updates.
"While a good formal education is paramount to all-around professional success in today's globalized economy, it is safe to conclude that real-world experience is equally important," said Elroy Bryan, Acting Senior School Improvement Officer from the Department of Education Services, who delivered remarks on behalf of Education Minister the Hon. Julianna O'Connor-Connolly.
"I challenge you all to not take this opportunity lightly, to absorb as much as you possibly can from your mentors and hold them in the highest of importance. Cherish this gift, that is, to receive guidance from those who have come before you and from those that have achieved before you. Take this with you always, if nothing else. Your survival depends on it. Your success depends on it," he said.
Since its inception in 2002, Mentoring Cayman has benefitted more than 1,500 students who have been given a unique opportunity to meet and to form lasting relationships with some of the top business and government leaders across all industries. Students receive invaluable advice and form lasting relationships which often leads to future opportunities for summer work, internships and employment.
Monthly workplace visits are arranged as well as career day, guest speaker luncheon, and two social activities.
The reception provided an opportunity for each mentor to meet their mentee student, with whom they have been paired based on similar career interests. It also provided a platform for parents to meet their child's mentor, and ensure they are completely comfortable with the match and supportive of the mentoring partnership. The informal and conversational atmosphere of the reception encouraged participants to network and make connections with other members of the programme.
Bryan thanked the Chamber of Commerce for coordinating the programme. "If it were not for the Chamber's vision, this programme and by extension this event, would not be possible."
Gibbs concluded his remarks by acknowledging the supporting sponsors: Consolidated Water, Cox Lumber, Rocky's Diamond Gallery and Knighthead Annuity.
The Mentoring Cayman Programme thanked the Hon. Juliana O'Connor-Connolly and the Ministry of Education staff, specifically Deputy Chief Officer Mr Joel Francis, for their continuing support of the programme.
His Excellency the Governor Mr Martyn Roper was also thanked for serving as the Patron of Mentoring Cayman.
---