Government Evaluates Hurricane Delta Response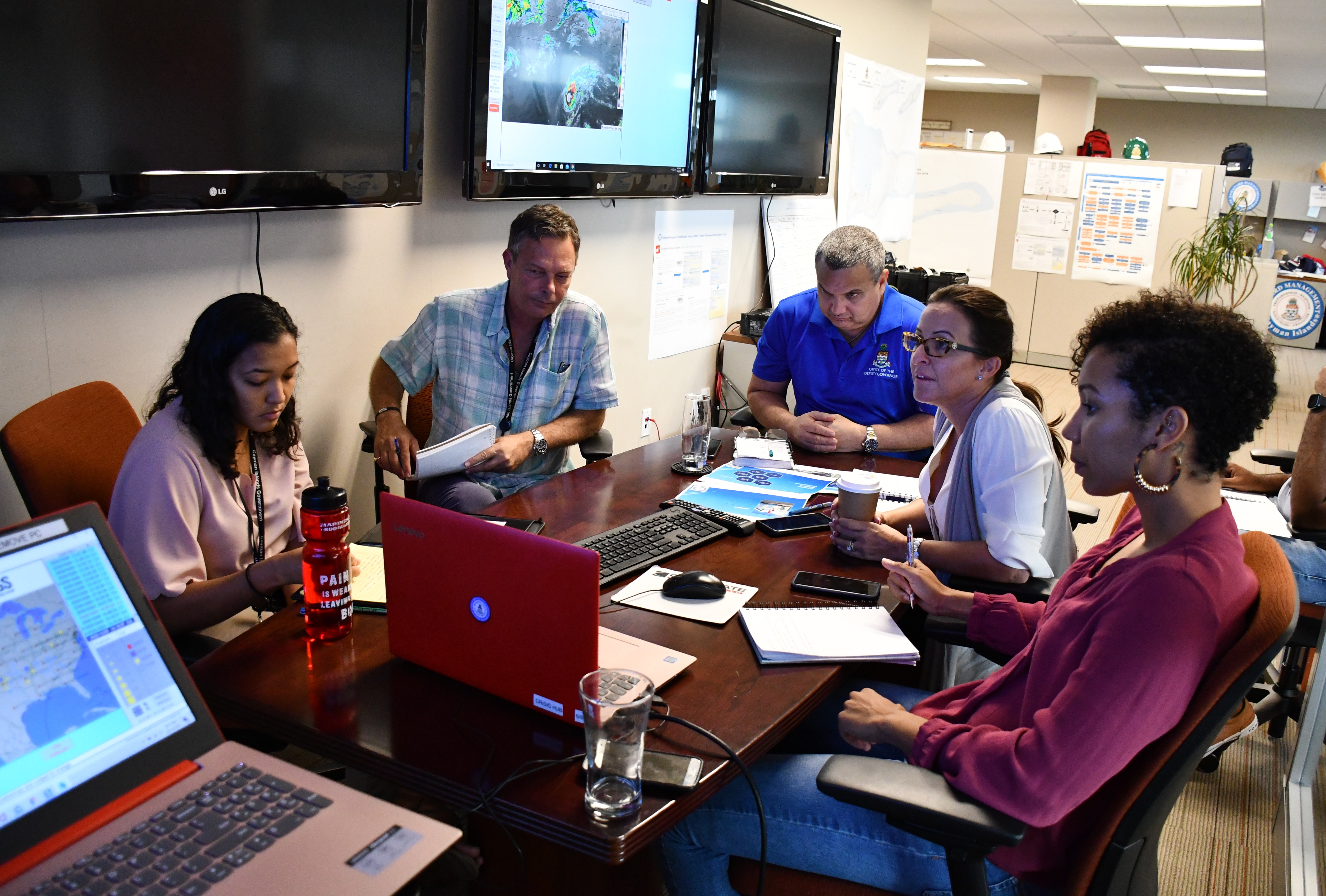 Following the passage of Hurricane Delta, teams from across the civil service came together on Friday, 9 October 2020, to debrief on the incident and evaluate lessons learned.
Deputy Governor, Hon. Franz Manderson, who chaired the meeting as the head of National Hazard Management Council, praised the civil service, including first responder, agencies, for an effective response to Hurricane Delta.

The meeting began with a recount of the weather forecast by Director General of the Cayman Islands National Weather Service, John Tibbetts. During his presentation, Mr Tibbetts highlighted the rapidly changing nature of Hurricane Delta, which altered its course and intensified several times on its approach to the Cayman Islands.
In the absence of time for an 'Alert' or 'Watch', there was a very short window to shutter Government buildings and provision shelters. Despite these challenges, procedures worked generally well, with shelters stood up to provide refuge for residents across Grand Cayman, Cayman Brac and Little Cayman.
Hazard Management Cayman Islands (HMCI) have agreed to look at how the national disaster response mechanism can be rolled out faster for rapid onset weather events, in collaboration with the stakeholder agencies within the National Emergency Operations Centre (NEOC).

While the impact to the Cayman Islands was limited, HMCI Director, Danielle Coleman noted that the chance of a far greater impact existed and therefore demanded the heightened government response seen on Monday, 6 October.
"Rolling out a national response across the civil service and first response agencies takes significant time and effort to mobilise. As such, to protect property and save lives when faced with an uncertain threat, our approach will always be to have scope to scale down, rather than needing to rapidly scale up at the last minute," Ms Coleman said.
During the meeting, it was widely noted that lessons learned and systems improved during the ongoing COVID-19 response had greatly streamlined processes for the NEOC. The utilisation of virtual meetings to facilitate ongoing internal communications at short notice and frequent intervals was mentioned in particular.
The plan, should telecommunications have gone down, was to use a Ultra High Frequency (UHF) Radio communications system, which is an extremely robust system that was not required during this incident.
For a short period of time on Monday, 5 October the Cayman Prepared and National Weather Service websites were both offline due to extremely high levels of traffic. Both websites are already scheduled to transition to a new platform, which will significantly decrease the likelihood of service interruptions in the future.
The meeting also received an update on the expansion to the National Emergency Notification System. A project to substantially expand the system, to distribute emergency alerts to the public through a mobile app, email and SMS from a centralised interface, is well underway. Given its capability to deploy mass public safety communications, the team responsible are working to launch as soon as it is reliably able to do so. This is currently expected to be in the latter quarter of 2020.
The NEOC call takers took calls from 9p.m. on Monday, 5 October through to 1p.m. the next day. Fourteen calls were received relating to weather updates and shelter enquiries.
Both the Red Cross and John Gray High School shelters were activated. Twelve shelter managers responded in total across both shelters, along with two RCIPS officers who aided at the Red Cross centre. One individual sought shelter at Red Cross, while no one sheltered at John Gray.
During activation, particular consideration was given to maintaining the safety of those in COVID-19 isolation, as well as the integrity of prevention protocols. Two requests to relocate individuals in home isolation to government facilities were received and promptly actioned, while the Cayman Islands was under the Tropical Storm Warning. All were returned to their homes once the all clear was given, to complete their required quarantine.
Connectivity of the geo-fencing technology that is an essential component of the programme that allows persons to quarantine at private residences, remained stable without any issue. Both the isolation and monitoring teams worked through the night from Monday, 5 October, along with the mobile response team who were on standby in the event that they were required to activate at short notice.
Community Emergency Response Teams (CERT's) were deployed across Grand Cayman and Cayman Brac. They were tasked with disseminating vital preparedness information to residents and conducted wellness checks on the most vulnerable in their communities. They were also on the ground to provide status updates during the storm's passage as well as impact assessments once the storm had passed.
The Cayman Islands Fire Service activated contingency plans to increase resourcing capacity and prepare for inshore search and rescue support from Monday, 5 October. No significant incidents were reported.
The Cayman Islands Regiment was not required to deploy for this incident though members were part of the initial planning process.
Reflecting on the collective response to Hurricane Delta, Deputy Governor, Hon. Franz Manderson said, "As Chair of the NHMC, I am grateful that Hurricane Delta spared the Cayman Islands any significant damage. Leadership by the Premier, Governor and members of cabinet ensured we were blessed with this outcome. I would like to thank NEOC members who worked tirelessly with one mission in mind: to keep you safe. Teams from across the Public Service including HMCI, NWS and communications along with the emergency services, shelter operators and health services providers worked seamlessly together. This large-scale mobilization kept us all safe; we now remain well-prepared and vigilant while the 2020 Hurricane Season is ongoing."
---