Grant Thornton Cayman Islands raised over $14,000 for charities at 4th Annual Golf Day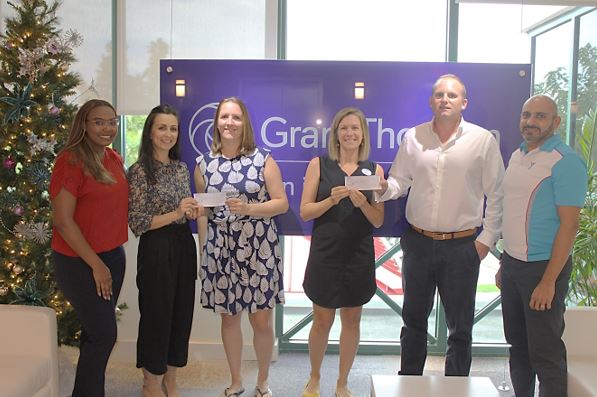 On December 9th, Grant Thornton Cayman Islands presented the Cayman Islands Humane Society and YMCA of the Cayman Islands with a cheque for over US$7,000 each further to fundraising efforts from their annual golf event.
In the 4th of the annual event series, Grant Thornton welcomed over 90 budding golfers to North Sound golf course for a day of on course challenges and fundraisers, and to crown the new 'Grant Thornton Championships Golfers of the Year'.
Greg O'Driscoll, Partner and Head of Asset Management for the professional services firm said 'we were delighted to be able to donate to two very worthy causes this year. From raffles, to our brand new and exclusive crane drop, putting competition and GT ring challenge, our guests dug deep for the fundraisers and we are delighted to have exceed our 2019 fundraising total by over $3,000 to continue helping local charities.
A special congratulations to the 2020 winning team: Andreas Haug from Maples, Russell Burt from Marbury, Jason Fitzgerald from Ogier and James Walton from HedgeServ, who played exceptionally well'.
O'Driscoll extended thanks to the sponsors of the event, 'we simply couldn't host such a fantastic day without the support of our sponsors. Special thanks to TRAC Automotive and Kirk Freeport for donating some world class hole-in-one prizes, as well as 1981 and all the other local businesses that donated raffle prizes for the event. It enabled us to raise a record-breaking amount of money'.
Raffle prizes included Xboxes, exclusive golf clubs and several vouchers for local attractions, supermarkets and restaurants. Laura Medley of the Cayman Islands Humane Society said "The Cayman Islands Humane Society would like to thank Grant Thornton for their support for yet another year. This is the fourth year they have supported us, and we are very grateful to the Grant Thornton team for raising more and more each year to help The Cayman Islands Humane Society provide ongoing care for the animals at the shelter. "
"Jenny Stuesser and Faramarz Romer from the YMCA added 'We're delighted to be new beneficiaries of the Grant Thornton Golf Day proceeds, and extend our thanks to the GT team and the golf day participants for their support. Donations to the YMCA help us continue in our mission to inspire youth and strengthen our local community. "
---