Little Cayman Forms Hazard Response Team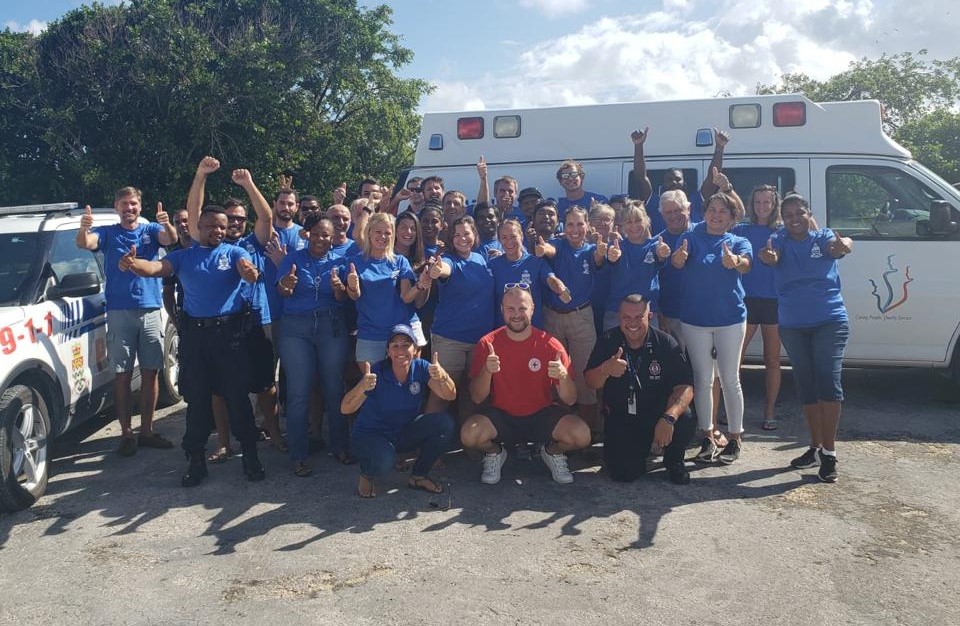 Following a particularly busy year for the National Emergency Operations Centre, Little Cayman has become the ninth community to receive a Community Emergency Response Team (CERT) training.
The latest CERT is made up of 30 determined individuals including volunteers from the Little Cayman divisions of the Royal Cayman Islands Police Service (RCIPS), Health Services Authority (HSA), Public Works Department (PWD), Cayman Islands Fire Service (CIFS) and the Mosquito Research and Control Unit (MRCU).

A CERT has now been trained on every island. "The many challenges faced this year has reinforced the importance of fostering resilience at a grassroots level across all three islands. It is therefore extremely encouraging to see so many people, including many dedicated public servants, step forward and commit to supporting their communities through times of crisis," commented the Minister for Home Affairs, Hon. Tara Rivers, JP.
"Hazard Management Cayman Islands, in partnership with the Cayman Islands Red Cross (CIRC), has been steadfast in their efforts to create these community-based response teams, and equip them with the necessary knowledge and skills to enable them to deal with various disasters. With trained CERT teams now established on every island, our national response has been strengthened significantly; and communities are better placed to take swift and appropriate action as required."

The intensive training, provided by HMCI in partnership with the CIRC and the CIFS, covered topics on search and rescue, vulnerability and capacity assessment, damage assessment and fire safety.
Addressing the latest CERT at their graduation ceremony on Thursday, 29 October, HMCI Director, Danielle Coleman described the group as possibly the most enthusiastic and determined team that HMCI and its partners had ever trained.
"It makes me feel very hopeful and it is truly inspiring that we have such a committed and civic-minded group of people who stand ready to support the Little Cayman community."
She added, "The nature of Little Cayman and its small population requires an added degree of self-sufficiency and this CERT makes us stronger as a community and, along with the Cayman Brac CERT, it fills an identified gap in our response mechanism."
She continued, "There will likely come a time when you will be called upon to reach out in support to the wider Little Cayman community: to your neighbours, your friends, your elderly and most vulnerable, and with these new skills you are in a better position to provide that support and assistance. We hope that day will not come, but if it does, we know Little Cayman is better prepared."
Earlier this year during the height of the national COVID-19 response, CERTs from Grand Cayman and Cayman Brac were deployed to assist with distributing vital public safety information and face masks.

Following the passing of Tropical Storms Delta and Eta, CERTs (most recently including the Little Cayman team) were also deployed to conduct damage assessments which were then fed back to the NEOC as well as complete wellness checks on the most vulnerable.
Little Cayman joins a further eight communities who have trained CERTs. These are Belford Estates, Savannah Meadows, North Side, North Sound Garden Community, West Bay, Windsor Park, Cayman Brac and Prospect.

CERT training is free and open to all residents aged 16 and over. Members of the public wishing to complete CERT training or to establish a team in their area are encouraged to contact Teresita DaSilva at 945-4624 for further information.
---