Members of RCIPS, Fire Service to assist DVDL with driving tests.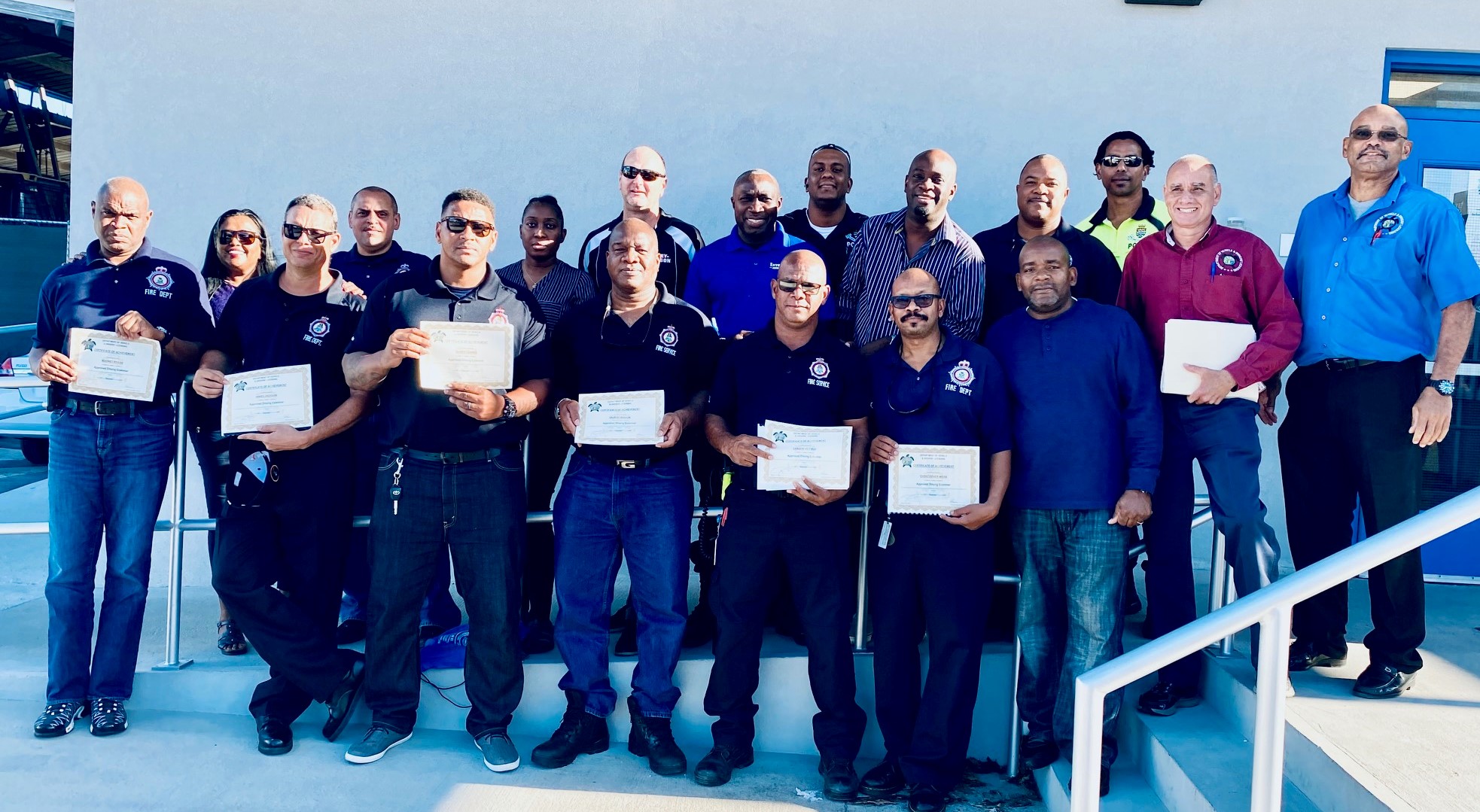 Some nineteen members of the Royal Cayman Islands Police Service (RCIPS) and the Cayman Islands Fire Service (CIFS) recently participated in a one-day training course to enable them to conduct driving tests on behalf of the Department of Vehicle and Drivers' Licensing (DVDL).
The support being provided by RCIPS and CIFS is part of a six-week intervention programme being implemented by DVDL to clear a backlog of appointments for driving and written tests due to closure of the Department earlier this year as a result of the global pandemic.
Director of DVDL, David Dixon stated that the support from the police and fire services is just one of many measures that the Department is undertaking to deal with backlogs at the Department. "Due to the COVID-19 and the shelter in place regulations imposed across our Islands, DVDL ceased written and driving examinations for a few months. We recently opened a call centre to facilitate the booking of appointments for written and driving tests over the telephone instead of customers visiting our locations, and are now working with RCIPS and CIFS so we can make further steps forward" he said.
He stated, "We are very grateful to the heads of the agencies and the officers for their willingness to come on board to work together, and also to staff members of the DVDL who continue to implement measures to improve customer service."
Commenting on the efforts, Commissioner of the Royal Cayman Islands Police Service Derek Byrne, said, "The RCIPS is happy to join forces with DVDL to conduct the tests so that the backlog can be cleared and also to ensure that we have safe drivers on the road. It is important that we continue to reinforce each other's efforts for the benefit of everyone's safety across the islands".
Echoing his colleagues, Chief Fire Officer, Paul Walker, stated that the work the agencies are doing together demonstrates how much can be achieved as one government. "The exceptional challenges we have all faced this year have undoubtedly strengthened ties across government departments and ministries, which this initiative is the latest example of. CIFS is pleased to offer our assistance and work closely with colleagues from DVDL and RCIPS to promote safe driving practices."
Applicants can contact DVDLs call centre at 945-8344, option 1, to make appointments for written and driving tests.
DVDL requests that applicants have card information ready to make payment over the telephone when making the appointment.
The call centre will be operational until end of January 2021 when the demand will be further assessed. It is open Mondays to Fridays, from 8:30 a.m. to 4:00 p.m.
Members of the public are reminded that online services are available to renew vehicle licences via DVDL's website at www.dvdl.gov.ky or through the e-services portal www.eservices.gov.ky. Processed documents will be emailed to applicants.
---